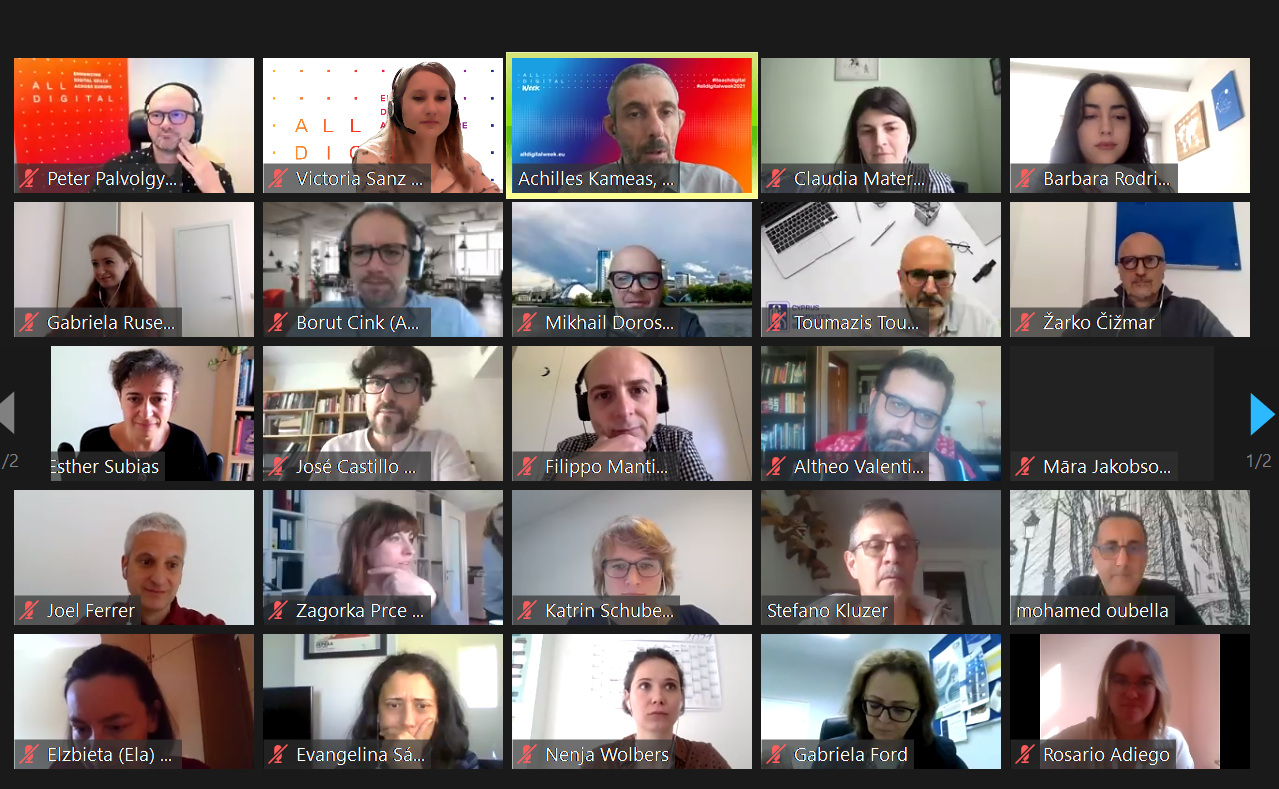 08 Jun

ALL DIGITAL General Assembly 2021: New challenges, new horizons

08 Jun, 2021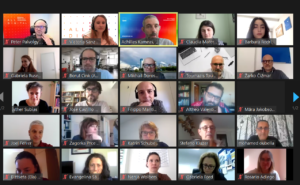 The ALL DIGITAL General Assembly 2021, took place on 20 May, online, gathering over 50 representatives of 44 member organisations (out of 71). After only a written procedure in 2021, the members were really excited to see each other and learn about the network achievements and prospects, but also elect a new board for 2021-2023. It was a full day event with four sessions: 
The 1st session introduced the new Manifesto for enhancing digital competences, the new members, the voting and election process and presented the annual membership survey.

 

The second session presented the annual report and accounts for 2021, the workplan and budget for 2021 and the board achievements.

 

It was followed by the third session and a self-presentation of the candidates for the Board and financial controllers as well as the introduction of the new strategy and a discussions in break-out rooms.

 

Finally, the last session introduced the All Digital Week results, plans for the upcoming ALL DIGITAL Summit 2021, and gave a space to members to present their initiatives.

Prof. Achilles Kameas, Chair of the Board of ALL DIGITAL, welcomed participants and presented the agenda. 
Peter Palvolgyi, CEO of ALL DIGITAL explained the voting procedures and the election process of Board members and Financial Controllers. 

New Manifesto
The new Manifesto for enhancing digital competences across Europe was presented by Prof. Achilles Kameas. The Manifesto was launched during an online event that gathered more than 80 participants and it aims to contribute to dialogue, implementation, and co-operation on various actions to deliver Europe's digital future. ALL DIGITAL members and other organisations are invited to endorse the Manifesto

New members
Ekaterina Clifford, Communication and Membership Manager presented and welcomed the new ALL DIGITAL members who joined during 2020 and 2021. 
In 2020: 

In 2021: 
New members were invited to introduce their organisations and briefly address the General Assembly, and six of them took this opportunity: CYL Digital, ICDL Europe, XUL Foundation, Ikanos, Tech.mt, and Le Mans University. 

Annual membership survey 2020
Ekaterina Clifford continued with the presentation of the annual membership survey results for 2020.The survey collects key information on the network composition, activities, and outreach, as well as feedback from members on ALL DIGITAL services and support. It allows ALL DIGITAL to improve the support and services. Data for 2020 was collected in March-April 2021, and the response rate was 70%.
Here is ALL DIGITAL network at a glance: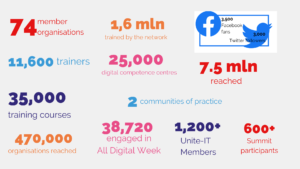 74 member organisations

 

11,600 trainers

 

35,000 training courses

 

25,000 digital competence centres
470,000 organisations reached
7.5 million people reached

 
38,720 participants of All Digital Week
600+ Summit participants

 

3,000 Twitter followers

 

3,500 Facebook fans
The most useful ALL DIGITAL services according to members were: 
Networking

and e

xchange of knowledge

 

Funding alert
Learning and news from members

 

Learning about projects

 

Connection to policy and EC

 

Applying for funding together and participation in projects

ALL DIGITAL Summit

 

ALL DIGITAL Week
CoPs
Annual Report, Accounts, Workplan, and Budget

Following the presentation of the annual membership survey, Peter Palvolgyi introduced the Annual Report and Accounts for 2020, which had been shared with members before the Assembly. 
The report provides an overview of activities, how ALL DIGITAL influenced public policies, partnerships with other networks and companies, ALL DIGITAL's and its members impact and ways towards sustainability. It introduces new members who joined AD in 2020. The report described the flagship activities: All Digital Week, ALL DIGITAL Summit, and ALL DIGITAL Awards, provides an overview of events and communication activities, as well as 19 projects that ALL DIGITAL implemented  throughout 2020. 
Peter Palvolgyi then continued with presenting the Annual Workplan and Budget for 2021. 
The presentation of the Annual Workplan and Budget was followed by the financial controller's observation shared by Thanasis Priftis on behalf of the financial controllers. 
ALL DIGITAL Board – achievements and elections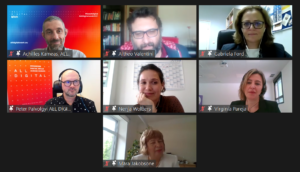 Prof. Achilles Kameas, took the lead again to present a brief report on the Board's achievements  during 2019-2021. This report included ALL DIGITAL in numbers, changes in the organisation, the establishment of the Board committees, Board meetings, AD's outreach, events, outcomes (e.g.. Manifesto, communities of practice), and finally the work still in progress. Board members then briefly describe their personal contributions and commitment to the Board and ALL DIGITAL.
We would like to take this opportunity to thank the outgoing board Members – Mara Jakobsone, Gabriela Ford, and Virginia Pareja – for their service.
New strategic directions
Prof. Achilles Kameas then presented the new strategic directions for ALL DIGITAL for the period of 2020-2024, a strategy draft as discussed and suggested by the Board. The new strategy will be compatible with the policies of the current EC presidency as well as reflecting the needs of European citizens and societies. Five pillars structure this strategy: 
BROADEN scope

 

IMPROVE capacity and prospect

 

INVEST in services and exploitation

 

BUILD visibility
ENGAGE with policy implementation
After a brief presentation, General Assembly participants were invited to discuss these pillars in a World Café format, in two rounds. 
All Digital Week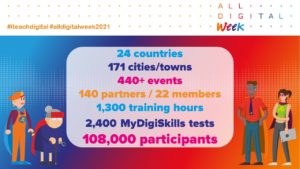 It has become a tradition at the General Assembly to present the results of All Digital Week, and this year it continued, Ekaterina Clifford presented the results of the 2021 edition of the annual  pan-European campaign to engage and empower people to use technology and enhance their digital skills. The campaign ran during 1 March – 16 April 2021, and the map of events on the campaign website shows 140 partners, 440 events and 108,000 participants. ALL DIGITAL organised nine events with over 850 participants, including a high-level launch event on 22 March when Mariya Gabriel, European Commissioner for Innovation, Research, Culture, Education and Youth, addressed the participants and supported the campaign. This year, for the campaign ALL DIGITAL launched MyDigiSkills.eu – a new tool that helps users understand their digital competences. Representatives of four member organisations, national partners of All Digital Week 2021, commented on their experience of this year's edition in their countries: CTC Rijeka, Croatia; AUPEX, Spain; LIKTA, Latvia, Cyprus Computer Society, Cyprus. 

ALL DIGITAL Summit
Peter Palvolgyi then presented the plans for the next ALL DIGITAL Summit, to be organised in October 2021 online. They key theme of the Summit will be "Digital Skills and Tools for a Better World". During the Summit, we will explore solving real world and societal problems through digital tools and digital approaches, and through the digital empowerment of digital competence centres and citizens, STE(A)M educators, and young people. 

Members' space
Finally, member organisations were invited to present their initiatives, projects and ideas during the member's space session. Three organisations shared their projects:
Mara Jakobsone from LIKTA – talked about the European Digital Skills and Jobs platform, which was launched on the same day.
Gabriela Ford from EOS Romania Foundation – presented EOS Digital Academy programme.
Gema Parrado Leon from AUPEX – presented their "We are the Artificial Intelligence Society" SomosSIA project.

What's next?

After the online event, in June there were elections organised by an independent company. During the first stage, 43 members of the General Assembly approved the ALL DIGITAL Annual Report and Accounts for 2020; ALL DIGITAL Workplan and Budget for 2021. And finally, the members voted for the 9-person Board.
During the second stage of the election, the Board members are being elected which will be followed by the election of the Chair and Deputy Chair. Stay tuned!