12 Oct

#TEAC16 – the best Annual Conference so far!

12 Oct, 2016

By Gabriela Ruseva

Telecentre Europe held its 9th Annual Conference in Ghent on 6-8th October, co-organised with our Belgian member Digipolis Gent and the I-LINC Platform. The 3-day event was attended by over a 100 invited participants and took place in the beautiful central hotel NH Belfort where guests enjoyed 2 days of keynote speeches, interactive sessions, networking and sharing, as well as a lot of fun and inspiration. An award ceremony in Ghent City Hall followed up by live music and dancing in the medieval cellar was the highlight of this positive experience. Great hands on experiences were also offered to participants who had the chance to visit local telecentres guided by enthusiastic staff of the Digipolis team and experience cutting-edge technologies at the Ghent Interactive Digital Fair on the 3rd and final day of the event.

Overall, the dynamics of the event were very positive. Inspiring, and sometimes even contradictory, keynote speeches served as provocative inputs for the debates which followed. Then we were back to plenaries for more inspiration and back to interactive sessions for sharing and reflection.

Perfect mix of attendees

This year participants came from ever more diverse backgrounds, probably thanks to the proximity of the event to the heart of Europe. The majority of them were from telecentre networks and NGOs working in the digital inclusion field. However, we also welcomed policy makers from Belgium and the EU, companies, libraries, youth centers and public authorities. Furthermore, I-LINC stakeholders and young ambassadors added to the lively mix.

We were honored to have the Belgian Minister for Development Cooperation and Digital Agenda Mr. Alexander De Croo who confirmed his government's commitment to develop digital skills for all as one of the main pillars of Digital Belgium.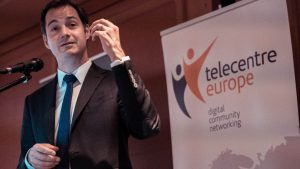 "Governments think that to ensure that everyone benefits from the digital opportunities it is enough to put the infrastructure in place – the networks, the equipment. This has to change! Education, throughout life, is the infrastructure of the future and governments need to invest in it." said Mr. De Croo.
Despite his busy agenda he took the time to reply to questions from the audience. He is seen as the first minister who actually knows what digital literacy is about and understands the need to develop skills hand in hand with deploying digital infrastructure.
From the private sector, we had Saskia Van Uffelen from Ericsson BeLux. Did you know that she is actually one of few non-tech people in the company? Her background as a teacher allows her to see skills development in the workplace from a different angle! From CISCO we had the pleasure to welcome Karsten Simons who spoke about CISCO Networking Academies making a difference all around the world. He and Martine Tempels from the Belgian telecom Telenet both agreed that soft skills such as communication, media literacy and critical thinking are equally important in today's workplace.
Interactive sessions and discussions
Maybe the best part of this year's conference was the interactive part – everyone was genuinely eager to contribute and exchange.  In the Future Trendspotting session participants were asked to let their imagination free and picture the future workplace. They discussed what new alternatives are there to the 9-17h working day and whether we are ready to meet the challenges.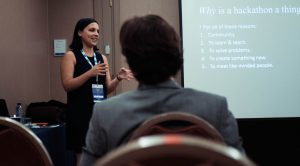 The parallel "How-to" sessions were very practical and hands-on, and session leaders gave very concrete and applicable advice to their audiences. Most attended sessions were "How to run an hour of code" and "How to run a hackathon" with "How to run a digital storytelling service for migrants" also attracting a lot of interest. It was really difficult to choose!
On the second day of #TEAC16 we also had a discussion panel that focused on youth employability and specifically on the I-LINC platform – a place for various stakeholders from formal education, non-formal training, employers' world and youth to come together and engage in a debate. The platform 2.0 is being launched with more possibilities to exchange good practices, share about recent policy developments and make new contacts. The panel brought together representatives of EU Commission, education and industry to discuss this burning issue. The video of this panel will soon be available on the I-LINC platform.
Unconference and project lightning talks
During the Unconference session participants were able to put on the table whatever burning issue they have in their hearts and minds. Some discussed digital skills particularly relevant for SMEs, which provide 2/3 of all workplaces in EU. Others cared about media literacy for youth in the context of the refugee crisis. Other topics included entrepreneurship, DigComp, Open data, etc.
The conference closed with six project lightning talks about coding, teachers' online collaboration skills, organising a hackathon, enabling parents to understand their kids' digital life better, and more, and more.
The lively event was filmed and many of the participants were asked for statements about the conference itself, Telecentre Europe network and other topics of interest. Videos will be available soon on our YouTube channel.
We took many photos throughout the event and you will find them soon on our conference website.
We are already looking forward to our #TEAC17 in Barcelona!