25 Nov

Educating for the 21 century: boosting digital skills and entrepreneurial thinking

25 Nov, 2017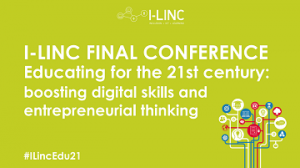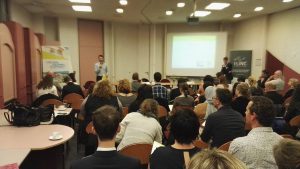 The I-LINC final conference, titled 'Educating for the 21 century: boosting digital skills and entrepreneurial thinking', was organised on 23 November 2017 within the Lifelong Learning Week. The main aim of the conference was to share ideas and recent developments in the area of digital and entrepreneurial skills in education, and to present the outcomes of 3 years of activities of I-LINC.
The event was opened with a keynote speech by Ross Hall (Global Leadership, Ashoka), who discussed the role of schools and emergence for learning ecosystems that empower people to live for the greater good through the inspiring keynote "Education as a key to a positive society". Ross Hall focused on a broader concept of entrepreneurial mindset where collective wellbeing lies in the centre and young people are empowered to create their own future and work, opposite to just becoming an employer. Through his presentation, Ross Hall painted a picture of what a Changemaker is and how we can empower young people to be Changemakers.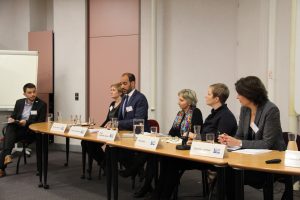 The keynote opened the floor for a constructive policy debate, moderated by Laurentiu Bunescu, CEO of ALL DIGITAL. The panel consisted of:
Caroline Jenner, JA Europe
Ilona Kish, Reading and Writing Foundation
Maria Podlasek-Ziegler, DG Education and Culture, European Commission
Rodrigo Ballester, Cabinet of Commissioner Tibor Navracsics
Deirdre Hodson, DG Education and Culture, European Commission
To open the discussion, panellists were first invited to share their views on Why are digital and entrepreneurial skills important? and What are the current policies that support youth in acquiring digital and entrepreneurial competences?
The discussion to follow focused on priorities at EU levels for empowering youth with digital and entrepreneurial skills and policy action to achieve this.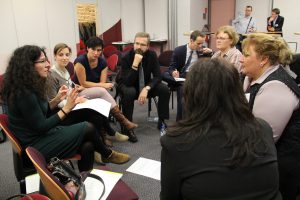 The event was foreseen as a networking opportunity to create synergies and possible cooperation. Firstly, Iva Walterova (ALL DIGITAL) and Tomislava Recheva (European Schoolnet) provided some insights on achievements and outputs of the I-LINC project, highlighting that the I-LINC Final event was a culmination of the efforts of I-LINC, as an open membership platform, to connect stakeholders interested in youth employability, entrepreneurship and digital skills.
This presentation was followed by the Lightning talks session, where several representatives from European projects on the two main strands of the event presented their work.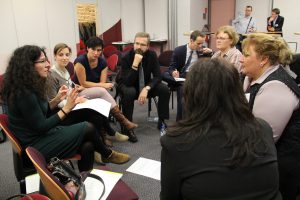 The second keynote speaker, Prof. Fernando Trujillo, University of Granada, with his inspirational speech on "Digital entrepreneurial learning: challenges for the 21st century school" discussed how digital entrepreneurial learning, rooted in methodologies such as cooperative learning, project-based learning or design thinking, may help schools cater for the 21st century students' need.
Two interactive session ensured a good exchange of practices and ideas, focusing on identifying priorities, ways to achieve them as a bottom up-approach and ways to collaborate better by also trying to integrate  separate actions focused at boosting digital or entrepreneurial skills.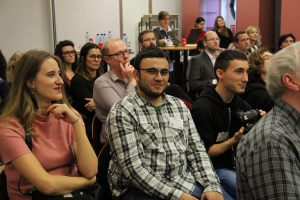 The I-LINC Final event was also attended by the winners of the Selfie Entrepreneur competition: Alba Cividanes, José Antonio Cambil and Unai Gallego.