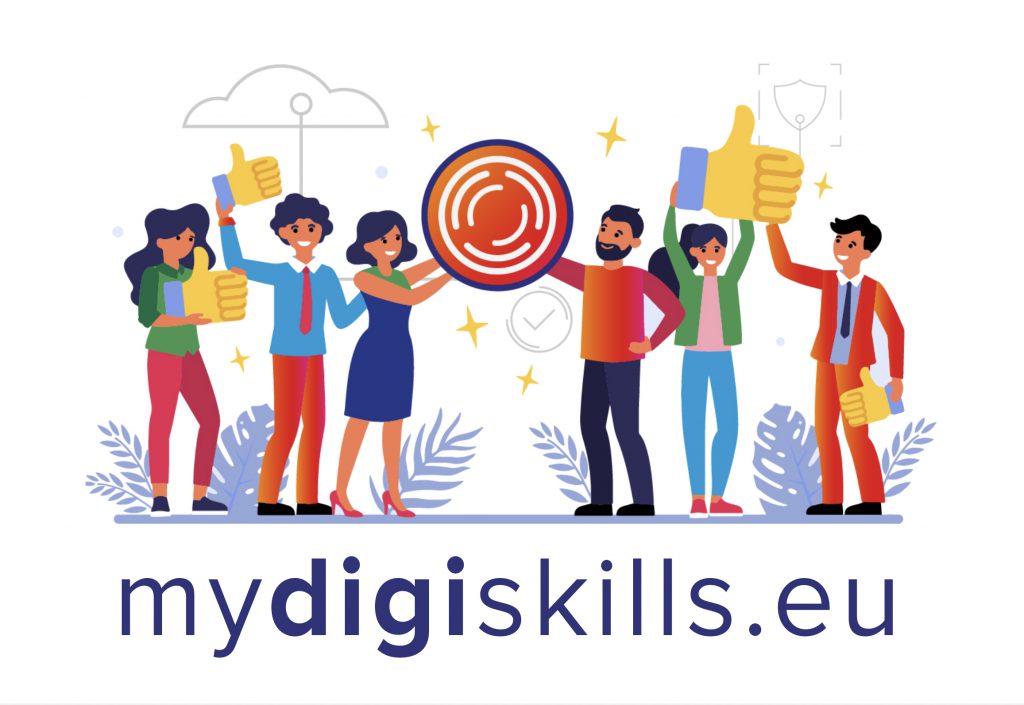 23 Mar

MyDigiSkills – a new tool to self-reflect on your digital competence level

23 Mar, 2021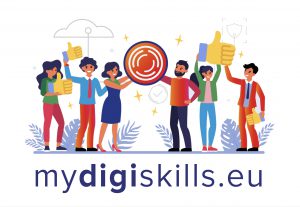 MyDigiSkills is a new tool to help users understand their digital competences. It is based on the work done in the DigCompSAT project, as delivered by ALL DIGITAL for the European Commission's Joint Research Centre (JRC) in 2020.
The tool was launched on 23 March with an audience of over 100 people at the special webinar organised within All Digital Week 2021. Scroll down to watch the recording of the webinar.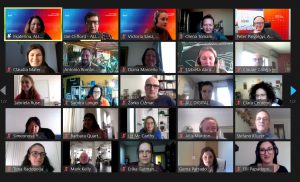 MyDigiSkills is available in seven languages: English, Spanish, Italian, German, Latvian, Lithuanian, and Romanian. It is based on DigComp 2.1, and it is anticipated that users will take around 20 minutes to complete the self-reflection assessment. The user will receive a personalised report on their digital competences that they can use to identify their strengths and weaknesses and identify the areas they could develop through training.
The webinar helped delegates understand the new MyDigiSkills.eu platform. It covered its history of development, rationale behind the tool, and provided in-depth coverage on how it works, its target audience, and potential uses.
We would like to thank our partners who made this tool possible: Joint Research Centre of the European Commission, Stefano Kluzer, Sandra Troia, Mara Jakobsone, Uldis Zandbergs, AUPEX – Folk-High-School Association of Extremadura, Repubblica Digitale, Stiftung Digitale Chancen, Ikanos, Langas I Ateiti, LIKTA, EOS Romania Foundation.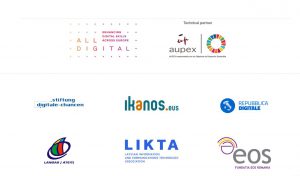 PROGRAMME

Moderator – Ian Clifford, ALL DIGITAL
(All the timings below are hyperlinked and refer to the video)
See the presentations from the event (all in one file)
00:00:39

​

Welcome from ALL DIGITAL. Peter Palvolgyi, CEO of ALL DIGITALHistory and background 

00:44:43

​

 
 From DigCompSAT to MyDigiSkills – Antonio Roman Casas, AUPEX
00:49:50

​

Overview of the MyDigiSkills system: rationale, aim, benefits. Walkthrough of the system – Ian Clifford


Languages
Registration
Data held
The Item Bank
Report
Counter

01:08:25​ 
 Suggested models for use
01:08:25 Suggested models for use from Spain – Gema Parrado Leon, AUPEX01:10:20

​

Questions and Answers

01:17:50

​

Suggested models for use from Latvia – Mara Jakobsone, LIKTA

01:20:55

​

Suggested models for use from Italy – Stefano Kluzer

01:23:10

​

What's next?

01:25:45

​

  All Digital Week – Ekaterina Clifford, ALL DIGITAL