09 Oct

Celebrating ALL DIGITAL Awards 2020 finalists and winners

09 Oct, 2020

On 7 October 2020,  at the ALL DIGITAL Summit, we announced the winners of the annual ALL DIGITAL Awards. The Ceremony, as the whole event, was organised online and was hosted by a journalist and a documentary producer Andrea Thilo, from Berlin – the host city of the Summit.

ALL DIGITAL Awards recognize individuals and organisations across Europe that enable citizens to transform and enrich their lives through the benefits and opportunities created by digital technologies.

The categories have been changing from year to year, and recently three of the recurring ones have been: Best Digital Changemaker, Best e-Facilitator, and Best Digital Resource. Read about all the finalists of ALL DIGITAL Awards 2020

Special thanks to 3D Trophy Factory,  an Antwerp-based technology & product-design company, for creating our beautiful awards. 
Best Digital Resource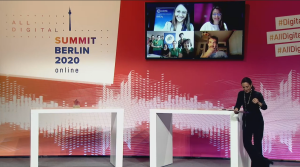 A digital resource is an online product for educational benefit, contributing to enhancing digital skills or providing an organisation with a useful tool to use with the customers or by customers directly. Only ALL DIGITAL member organisations can nominate the resource, because the network wants to highlight those resources that their members are using in their work and find it useful.
The three finalists in the 'Digital Resource' category in 2020 are (you can see the nomination entries by clicking the titles):
And the winner is ….
Announcing the winner in the 'Best Digital Resource category, the jury member Austeja Trinkunaite, Secretary General of Secretary General of CEPIS, the Council of European Professional Informatics Societies,  noted that 'digital resources are essential in the digital training ecosystem. They provide the basis for building skills and competences for education and learning. And the need for high quality digital resources has become particularly prominent during the Covid-19 pandemic.'
… Turtle Coding Box by Helliwood!
With the Turtle Coding Box, ALL kids can learn how to code, regardless of social background, physical or mental abilities or disabilities. The resource provides:
the coding app TurtleCoder with integrated assistive technologies for learners with disabilities
the Turtle-Book as digital, interactive teaching resource with a complete curriculum for informatics basic education with 7 lesson plans, video-tutorials for teachers & students, task cards & working material
selected material with Braille, special videos with sign language
What is unique about the resources is that both the didactic approach and the technology are designed for inclusive learning. Teachers are able to teach coding with very diverse learners within one group at the same time. Children with and without disabilities, highly gifted ones or with learning difficulties – for the first time ALL students code together with just one resource and foster digital skills together. This enables future opportunities! Interested what Turtle Coding Box is? Continue reading the nomination 
Receiving the Award, project manager Jutta Schneider said, "The Award is particularly important because our vision is that all children learn how to code regardless of disabilities or not. This is our big vision and our heart.And it will help us spread this vision in Europe and promote it further in schools and other organisations that want to teach kids to code."  Thomas Schmidt, CEO of Helliwood, added that in this work parents are also very important. "Children can learn coding at school, but then they can come home and code a little bit more. They can learn together with their parents."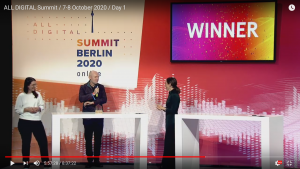 Best Digital Changemaker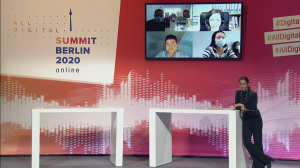 Digital changemakers are committed individuals who aim to transform society with the help of digital tools and technologies. They lead the refocusing and adjustment of existing ICT for learning and inclusion initiatives towards a more effective support of citizens. The tree finalists in 2020 are:
And the winner is …
The winner was announced by the Awards jury member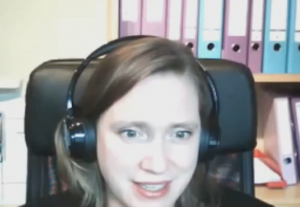 Fiona Fanning, Director of European Affairs at Certiport and the member of the Advisory Board of ALL DIGITAL.
Fiona remarked that this is the award "for excellence and improving digital skills with positive social impact, for leadership and dedication, for reminding us how one personal can positively impact the lives of so many".
… Jean Guo, CEO of Konexio!
Jean grew Konexio from community workshops in 2016 to an organization that has trained 800+ students, developed partnerships with 200+ companies and organizations, and established an international presence in 2020. She has laid the groundwork for future expansion in 2020-1 both domestically in 2+ regions in France, and internationally in 3+ countries.
Jean's drive and capacity for collaborative leadership is underpinned by her experience as a researcher, policy expert, and strategy consultant. She has developed partnerships with influential tech companies such as Google and Salesforce, and has won funding from governmental, institutional, and corporate sectors. Continue reading the nomination here
Accepting the Award, Jean said that what ALL DIGITAL members represent and fighting for – the digital inclusion – is very important especially now with the COVID pandemic.  "There are issues and big challenges ahead of us, not only within months, but probably years ahead where we have to learn how to adapt and really change how we help others, how we fight for the most vulnerable. So I am really honoured to be a part of this."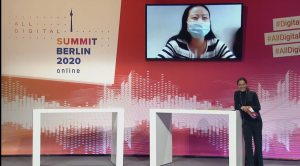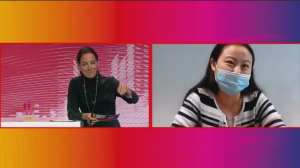 Best e-Facilitator
E-facilitators are trainers, tutors, assistants, teachers – all those who support and empower users in digital competence centres. They bring people online, take the fear of technology away, and teach them the right behaviour, opening new perspectives, enabling better jobs, and enhancing their communities.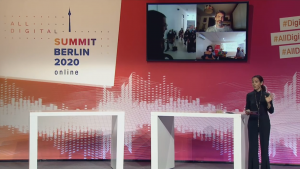 The finalists in the 'Best e-facilitator" category are:
And the winner is…. ARE
Katerina Hadjigeorgiou, Cyprus, Robotics instructor from Frenaros
Katerina's responsibilities include the development of teaching material, teaching robotics to students aged from 5 to 15 and keeping them motivated. She is also preparing students to participate in competitions and promote robotics at festivals and school events. In her classroom she is enhancing the use of robotics platforms and believes that the best teaching approach and methods must include acceptance and learning by creating. She truly believes that through robotics kids can experiment and by changing various factors like connections, structure of the robot, programming they can learn in practice the full spectrum of STEAM.
Katerina has managed from her first years to showcase her training skills by supporting her students attend competitions with great results. Continue reading the nomination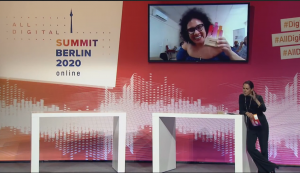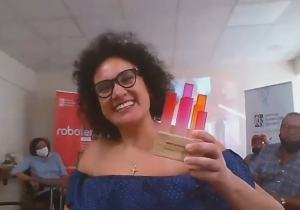 Maria Angeles Leal García, Spain – e-facilitator from NCC Montehermoso
Maria Angeles is responsible of the NCC Montehermoso, one of the digital competence centers of the Digital Skills Programme for Employability in Extremadura. Maria Ángeles provides training in topics such as communication tools, e-procedures, online job search and tech-based activities where users need support, guidance, training and even access to Internet and devices. She works with most of social groups, although she has a especial connection with adult women with less opportunities.
Maria Ángeles has turned the digital competence centre into a space where all neighbours like to be, getting them closer to digital technologies, its potential and the way to improve their digital inclusion chances, especially women, with whom she has a stronger connection. She has developed very interesting activities, i.e. All Digital Challenge (for ALL DIGITAL Week 2019) that has become a local digital cultural reference, designed and implemented only by users. Continue reading the nomination
As Maria is also an artist and performs both traditional and contemporary music, she sang for all of us.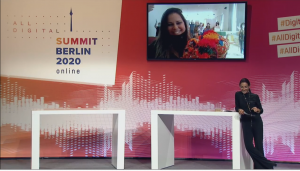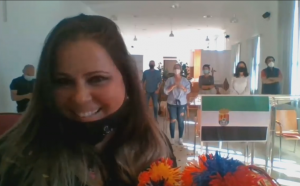 The connection with AUPEX extended to hear a bit more about their work and about their impressions about the summit. Antonio Roman Casas, the project manager at AUPEX, underscored that human should always be above digital, and their finalists – Jose Miguel and Maria Angeles – are good examples of AUPEX professionals working in their communities, they listen to their needs and try to provide answers, training and support in order not to leave anyone behind.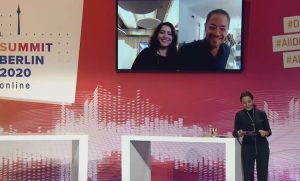 And Antonio, as all the other participants, wished that we could all be together for the Summit and for the celebration.
To finalize the Ceremony, Ekaterina Clifford, Communication Manager at ALL DIGITAL thanked all the contributors – nominators, the jury, finalists, and remarked that all finalists deserve to be winners. Every year it is a pleasure and honour to learn about the people in the network and meet new friends from outside the network through the Awards.
Congratulations to ALL and we hope to meet next year!   
Watch the Awards Ceremony:
(the video should start at the time of the ceremony; if it doesn't, fast forward to 05:48:35)