26 Jun

ALL DIGITAL Week 2019 helped 130,000 people to improve their digital skills

26 Jun, 2019

43% of European citizens lack digital skills to be able to fully participate in and benefit from the digital society. To support them and raise awareness of the importance of digital skills training, ALL DIGITAL together with its partners has been running the pan-European campaign ALL DIGITAL Week every March since 2010.

Over 2500 organisations in 31 countries joined the 10th edition of ALL DIGITAL Week to offer over 3600 training and awareness raising events to 130,000 participants. Many thanks to all the partners who organised and supported the activities of ALL DIGITAL Week, this is our joint success!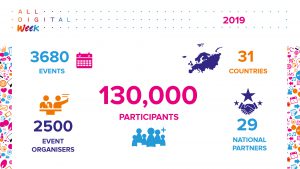 ALL DIGITAL Week 2019 was held under the patronage of Mr Tibor Navracsics, Member of the European Commission and supported by Liberty Global, Certiport and Google Europe.
"Certiport is thrilled to be part of ALL DIGITAL Week," said Ray Murray, Vice President and General Manager – IT, Pearson VUE. "We believe that certification is the best measure of return on investment in digital skills education and we are committed to working to include the 43 percent of Europeans who still do not have the digital skills needed for today's workplace." Certiport also involved their Authorized Partners to run activities under the ALL DIGITAL Week, and many of them offered free training and certification. Read more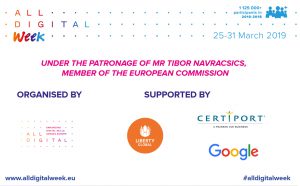 This year the campaign was run in conjunction with European Media Literacy Week and had a strategic support from major European organisations: Lifelong Learning Platform, European Schoolnet, Europeana, Public Libraries 2030, CEPIS,  European Banking Federation, Digital SME Alliance, European Cybercrime Centre of Europol.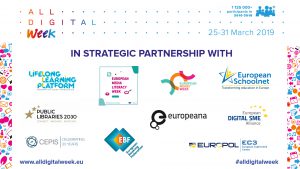 With Google Europe ALL DIGITAL organised a training of trainers in Brussels on Be Internet Citizens curriculum. The participants then organised their own training events on Media Literacy and Disinformation in their countries.
On 26 March, ALL DIGITAL and the Lifelong Learning Platform gathered European stakeholders to tackle the burning issue of digital skills and media literacy. How do we work together to support them? This was the key question that representatives of EU institutions, civil society organisations, education institutions and practitioners discussed at The 43 event.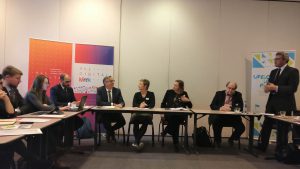 And of course, as in all other years, a range of activities were held by ALL DIGITAL Week partners in 31 countries. The three major topics of 2019 campaign were:
All the partners promoted those topics, and of course basic digital skills have also been in the focus. You can see examples of activities across countries in this blogpost.
What are the campaign highlights in different countries?
The top six countries involving the largest numbers of participants were (again) Latvia, Russia, Lithuania, Romania, Poland, and Sweden.
Out of all the events presented on ALL DIGITAL map, the organising committee has chosen 14 finalists of the Best Event Contest, out of which the ALL DIGITAL jury selected 3 best events. The winners will be celebrated at the ALL DIGITAL Summit in Bologna in October 2019.
CONGRATULATIONS TO ALL PARTNERS
ON A SUCCESSFUL 2019 CAMPAIGN and …
SEE YOU IN 2020!