06 Jun

The Smart Women Project piloting has started in Lithuania

06 Jun, 2018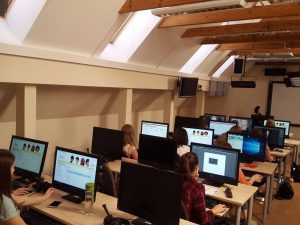 The Smart Women project aims to train female current or aspiring entrepreneurs in e-commerce; in other words, to give entrepreneurial women the skills and tools they need to bring their business online. As piloting starts in six European countries, we will learn more about the experiences of each one.
Langas I Ateiti is the Smart Women partner in Lithuania. The Smart women training course is being piloted in the second biggest city of Lithuania, Kaunas, about 25 km from Vilnius.
Twenty-five girls and young women are taking part in the pilot training. And here are the first comments from participants:
"Digital marketing has been the most interesting, it explains the technologies used to advertise brands, products and services for potential buyers and customers. It helps you to briefly and clearly outline how you can promote your products or services to people using the search engine or a specific social network (e.g., Facebook). In this section, I've learned about the most popular platforms for creating websites: not only about WordPress, which I've heard before, but also about the other – Drupal and Joomla… Great!"
(Joana, 22, LT)
"This is a great project that gives women the opportunity to learn things that help them not only starting their own business, but also in using social networks . This project shows that previously "masculine" information can be understood and taken over by women, too". (M.Korolyte, 25, LT)
We will share with you more of the experiences from women as the piloting goes on in all project partner countries.
If you're interested in the project, follow the Smart Women community on I-LINC
Learn more on the Smart Women project website