06 Sep

Telecentre-Europe is awarding 20 female Outstanding Telecentre Managers

06 Sep, 2011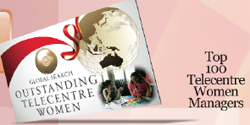 Telecentre-Europe is taking part in the Global Search for 100 Outstanding Telecentre Women Managers and is looking to nominate 20 female telecentre operators or managers that have been contributing to digital literacy and the development of their community for at least 1 year already.
The initiative is organized by Telecentre.org Foundation and the ITU under the "Telecentre Women: Digital Literacy Campaign" in coordination with Telecentre-Europe and the other five global regional networks: Latin America and the Caribbean Telecentre Network (20 nominees), Asia Pacific Telecentre Network (20 nominees), Middle East and North Africa Telecentre Network (15 nominees), NetAfrica (15 nominees) and Eurasia Telecentre Network (10 nominees).
The 20 nominees will be enlisted among the Top 100 Global Outstanding Telecentre Women Managers and can become one of the six winners of the "Most Outstanding Telecentre Women Manager" distinction (one from each global region), who will each receive a brand-new netbook.
Submit your nominations now, by filling the form and sending it to women@telecentre.org.
Entries must be received by on or before the extended deadline of October 30, 2011, 12 midnight Philippine standard time.
Read more on our community site »