08 Dec

Digitaal.Talent@Gent wins European Digital Skills Award in category 'Digital skills for all'

08 Dec, 2017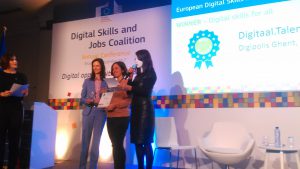 Our member Digitaal.Talent@Gent is the winner of the European Digital Skills Award in the category 'Digital skills for all'. Commissioner for Digital Economy and Society, Mariya Gabriel, presented the award on the 7th of December at the second Digital Skills and Jobs Coalition conference in Brussels. The award is a great recognition for the efforts of Digitaal.Talent@Gent  that coordinates the e-inclusion activities of the City of Ghent, OCMW Ghent and Digipolis.
Digitaal.Talent@Gent has been working for more than ten years to give all citizens of Ghent the chance to discover and develop their digital talents. Digital Skills for all citizens is one of the four pillar of actions of the Digital Skills and Jobs Coalition. Digitaal Ghent is an exemplary best practice that addresses the challenge of ensuring that not citizen is left behind in the digital transformation, and also shows how cooperation between a broad range of stakeholders can have a big impact in ensuring the digital transformation benefits everyone.
Over the years, Digitaal.Talent@Gent has grown into a broad program, with social projects that focus on supporting the general public and marginalised groups, such as seniors, underprivileged young people, the low-skilled, etc. Digital points are located at various parts in the city of Ghent, included the recently opened library De Krook, but also thrift stores and recreational centres through the city.
Sara Van Damme, project manager, who accepted the award on behalf of Digitaal Talent notes, "It's not always a small step for everyone to go to a library, that's why it's important to locate digital points at places in the city that frequented by communities affected by the digital divide."
Ghent is a pioneer in the field of urban e-inclusion policy in Europe. Collaboration is the key to success: thanks to the cooperation of numerous associations, non-profit organizations, libraries, youth centers, educational and research institutions, city and social services, Digitaal.Talent@Gent succeeds in reaching over 20,000 people per year. On a daily basis hundreds of people go to the digital talent point at De Krook with their digital issues, which may range from very complex questions to needing help to install a app.  Digitaal.Talent@Gent fuels digital potential through this permanent offering.
Digital Talent Points, Digital Lending Service and Digital Week
More than 70 Digital Talent Points have been set up in the city for people who do not have access to a computer at home or at work. These public computer rooms offer Ghent residents not only free internet access, but also the possibility to develop their digital skills through coaching or interactive and practical workshops. Ghent organizations, services and schools can also receive free hardware through the Digital Lending Service, from educational robots to laptops and tablets.
Digitaal.Talent@Gent coordinates an entire week of digital fun and education in the city of Ghent. The opening event of the Digital Week in Ghent is a spectacular interactive event that combines fun and technology. During the Digital Week you can attend workshops and lessons anywhere in Ghent or attend demonstrations on digital themes and evolution.
E-inclusion projects
Digitaal.Talent@Gent additionally implements projects that focus on the training and inclusion of groups who have fewer opportunities in the digital society.
The project Onbeperkt mediawijs paves the way for digital inclusion of people with intellectual disabilities. For the Code City project, a series of voluntary coaches from March to May 2018 will then go to all primary schools in Ghent to teach children between 9 and 12 years to code for a 'hour of code.' After all, coding and 'computational thinking' are the skills of the future and of future workers.
Digitaal.Talent@Gent also stimulates the development of 21st-century digital skills (STEM or STEAM skills) at De Krook Library . Children, young people and adults can get acquainted with 'digital' by getting started with digital fabrication technologies such as 3D printers, laser cutters and programming tools. Recently, youth workers have been able to follow a new and unique training to become STEAM supervisor in order to encourage children and young people from disadvantaged groups.
About the European Digital Skills Award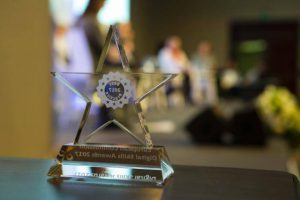 The European Commission launched the European Digital Skills Award for the second time. In 2017, the awards were given the in the following five categories:
Digital skills for all
Digital skills for the workforce
Digital skills for ICT professionals
Digital skills in education
Digital skills for girls and women
240 projects were submitted to the awards. The finalists were announced at the end of November. Read about the 20 outstanding projects that reached the finals of the European Digital Skills Awards 2017. Digitaal.Talent@Gent – Giving every Gentenaar opportunities in the digital world
Read more on the Digital Skills and Jobs Coalition annual conference
Read more on the Digital Skills and Jobs Coalition