20 Oct

Telecentre-Europe's Summit 2012: Jobs for Youth and Ageing Online

20 Oct, 2012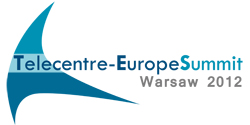 Under the title Jobs for Youth and Ageing Online, network leaders representing more then 25.000 telecentres gathered at Mercure Grand Hotel in Warsaw for the fifth Telecentre-Europe Summit that took place during 17-18 October 2012 and was co-hosted by the Information Society Development Foundation (FRSI).
The Summit was opened by a video message from Commissioner László Andor, responsible for Employment, Social Affairs and Inclusion.
The event included plenary & parallel sessions on four main topics:
• Skills &  Jobs for youth
• Capacity building for telecentres & libraries
• Socio-economic impact of telecentres
• Ageing Online
The summit provided an excellent opportunity to discuss, network and collectively contribute on issues related to European telecentre networks and other eInclusion themes.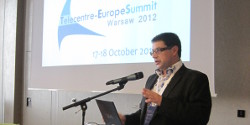 The programme included a series of interactive plenary and parallel sessions and a marketplace for the dissemination of projects & project ideas. Delegates valued their participation very stimulating and left with a real sense of action happening and of recognition for the work they are doing.
On day 1 the summit was launched by a warm welcome given by Ian Clifford, Chair of Telecentre-Europe AISBL & Rafal Kramza, President of Polish host FRSI, together with Wlodzimierz Marcinski, the Polish Digital Champion.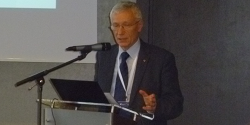 Then, to the surprise of everybody, a video message from Commissioner László Andor, was broadcasted in which he praised the great work done by thousands of telecentres across Europe for their efforts in helping particularly young people to improve their employability, and for the way they favor the exchange and mutual knowledge between generations, unlocking the untapped potential of our ageing societies.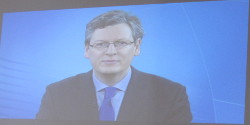 Once launched, Andrea Parola from the European e-Skills Association started the first plenary session with his presentation Skills & Jobs: a new challenge for digital inclusion in which he unfolded the skills deficiencies industries encounter when failing to fill existing jobs. A lack of industry-specific qualification & certification of technical competencies ("hard" skills) is at the basis of this failure, much more then the employability ("soft") skills of motivation, professionalism and/or interpersonal skills.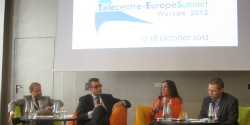 In her presentation Past and Present of telecentres: their demonstrated value, Maria Garrido from the University of Washington showcased her research on how the work of e-inclusion actors produce different categories of impact: skilling, empowerment, networking & job-placement capabilities. She also highlighted that different perceptions make it difficult to define impact and that evidence of impact is very fragmented and difficult to systematize.
Gianluca Misuraca from JRC-IPTS, gave a detailed overview of  the research project MIREIA – Measuring the Impact of eInclusion Intermediary Actors that will develop a shared methodological framework to measure the impact of eInclusion actors on the socio-economic conditions of the target users they adress.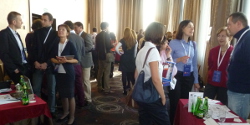 The presentations of the plenary sessions then made room for networking and mutual support among the networks of telecentres who were given the opportunity in a marketplace session to share project ideas, to improve them and to build a consortium to submit new project applications.
Next on the program were three parallel sessions. A first parallel session was entitled Skills and jobs for youth and moderated by Andrea Parola (EESA) and Ian Clifford (Telecentre-Europe). They adressed the fact that the technology curricula of formal tertiary education are often outdated, and certification training in non-formal education like in telecentres is expensive and time consuming. The available jobs though demand specific eSkills: young people don't have those skills and often are not motivated for a job as "geek". Recommendations are to involve the private sector in awareness building and skills training, and in engaging them in "beyond-the-geek" tech job fairs for young people.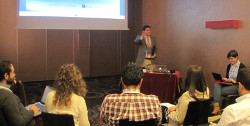 A second parallel session concentrated on Social Media and Social Innovation. In his presentation Is innovation possible in telecentres?, Juan Francisco Delgado (Spanish Community Association of Telecentre networks & Social Innovation Centres) showcased the power of the social internet and why telecentres should become social innovation centres. Then Lize De Clercq (Telecentre-Europe) presented the practical session Social media: tips for telecentre organizations in which she unfolded good & bad practices in using a Facebook page and a introduction training to Twitter for newbies.
At a third parallel session, Cristina Torrecillas (JRC-IPTS) presented Building evidence to measure the socio-economic impact of Telecentres on e-inclusion, in which she showed the preliminary findings of the "locality mapping" the first exercice of the MIREIA research project, lead by JRC-IPS.
Then it was time for a second plenary session, in which Peter Palvolgyi gave an overview of EU funding opportunities in 2013 through the Life Long Programmes and Lukasz Nikitin those through the Horizon 2020 programme.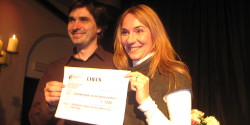 The first day ended with the Telecentre-Europe Awards ceremony, where Telecentre-Europe's Managing Director Gabriel Rissola congratulated the Award winners for their outstanding digital inclusion efforts and achievements and handed over the trophy and a symbolic cheque for the cash prizes.
The Award winners were: The Learn more about ICT network from Denmark (First Prize ex aequo with Serbia), International Aid Network from Serbia (First Prize ex aequo with Denmark), Langas į ateitį (Second Prize) from Lithuania and Stiftung Digitale Chancen (Third Prize) from Germany.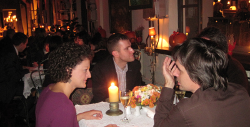 As a surprise, a bouquet was handed over to Gabi Barna, Telecentre-Europe's former Chair, for her amazing efforts in advocating & building Telecentre-Europe during its first years as a legal organization.
The ceremony was preceded by a nice walk in Warsaw's old city centre and ended with a candle light dinner & party at Galeria Freta, a very nice art gallery in the heart of Warsaw.
Day 2 of the conference started with a keynote speech of Miguel Gonzalez Sancho Bodero (EC Deputy HoU and Jobs, DG CNCT) in which he unfolded the policy perspectives on the contribution of telecentres to growth and jobs in Europe.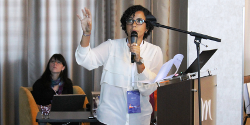 During the plenary session Robin Knowles (Civic Agenda, on behalf of the Bill & Melinda Gates Foundation's Global Libraries program) held a speech on capacity building for libraries & telecentres. After, Heba Gamal from Fundacja Techsoup presented the results of Techsoup Global's Cloud Computing Survey 2012. Then, Miguel Raimilla from Telecentre.org Foundation presented the Foundation's programs for women, on sustainability & capacity building.
During the parallel sessions that followed, the target groups youth, women and seniors received special attention.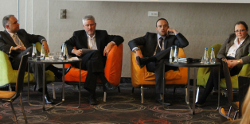 In a first parallel session, Marek Kosycarz from Microsoft Poland presented how Microsoft is supporting youth opportunity in Europe, while James Varnham from Certiport explained the range of certification exams available for improving youth employability. Keith Thode from Aidmatrix explained how their Centers of excellence will empower 10.000 people to transform their lives and their communities through technology sector education and employment.
In a second parallel session, Miguel Raimilla (TCF) explained how TCF's Global Women Program has already trained 382.016 women, of which 147.423 in Europe. All trainings are localized but not yet quality certified and the training for women in Europe should be adapted for different target groups: young, seniors, long term unemployed, single mothers, migrant women etc. Also, motivation problems exist as advanced trainings are not attractive enough for women in Europe.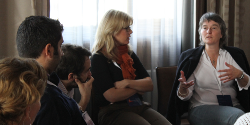 In a third parallel session, Mara Jakobsone from LIKTA spoke on behalf of the Connect, Latvia! program that aims to bring digital literacy to 6000 seniors of 50+. Morten Olsen from the Association of Danish Senior Citizens presented the successful peer-to-peer approach used in Denmark. One of his statements that became famous during the summit was: "In Denmark these days people don't get old. They age."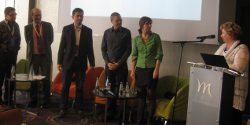 The summit ended with a quick wrap-up of this year's summit by Telecentre-Europe's newly elected Chair Mara Jakobsone who thanked all participants, stakeholders, staff members & supporters for their active involvement and dedication that led to a successful event.
As a closing surprise and good bye message, Miguel Raimilla from Telecentre.org Foundation showed the teaser video announcing the 4th Global Forum on Telecentres #SPARK13 that will take place in Granada, Spain on 28-29 May 2013.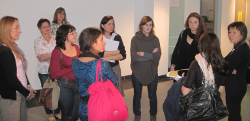 In the afternoon, the Polish host organisation FRSI organized a visit to one of the libraries that participates in the Library Development Program. The library was situated in Raszyn, a big village of 20.000 inhabitants, 20km outside Warsaw. ICT courses in Raszyn are not free & take place at the cultural center. The library offers free training for the excluded: they have space but not yet enough computers to offer more basic training courses.
» View the conference pictures: Day 1 | Day 2
» Read a summary through the conference tweets of @TE_live
» View the impact of #TES12 on the internet