15 Dec

Telecentre-Europe at the European eSkills Conference 2011

15 Dec, 2011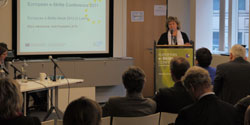 On December 13th, more than 200 people gathered in Brussels for the European e-Skills Conference 2011. Among the participants were Telecentre-Europe's board members Mara Jakobsone and Ian Clifford.
Mara Jakobsone, vice-president of LIKTA, gave a presentation on how LIKTA suceeded in getting a government mandated e-skills week in Latvia on an annual basis. Ian Clifford, co-chair of Telecentre-Europe, live tweeted from the conference and highlighted the presentation of Werner Korte, Director of Empirica who said the ICT workforce annual growth rate continued at around 3% despite of the crisis.
Read more:
» European e-Skills Week Conference Delivers Roadmap for European Jobs and Productivity
» Overview of programme with bio & presentations