09 Dec

Digital Agenda Going Local: meeting in Sevilla, Spain

09 Dec, 2011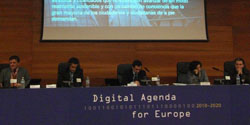 As part of the "Digital Agenda Going Local" exercice in Spain, an expert meeting took place in Sevilla, on the 1st of December 2011.
The event was a big success and recognized the important role of telecentres in social innovation. A clear conclusion was the valuable work in the generation of innovation throughout the territory of the South of Spain, performed by the telecentres of the Guadalinfo network, which should serve as a reference for Going Local in the EU.
» Read more about the event on the blog of Digital Agenda Europe