03 Oct

New opportunities for people with intellectual disabilities in Romania

03 Oct, 2012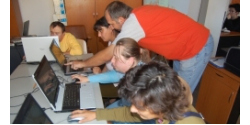 EOS Foundation Romania and "Pentru Voi" Foundation developed a partnership to support the inclusion and welfare of people with intellectual disabilities. The partnership started with a pilot project for nine beneficiaries, and was aimed at increasing the quality of their life.
During the pilot project, the trainees had the opportunity to learn the basics of computer use, during a total of 24 hours spread over a period of three weeks. As the pilot project gave good results among its beneficiaries, the partnership goes on and other groups of adults with intellectual disabilities will now be trained in ICT.