05 Jun

Microsoft selects Skillage builder Avaelgo as cloud SME of the month

05 Jun, 2012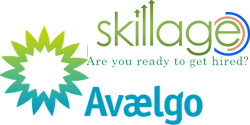 Telecentre-Europe's online tool Skillage – which measure ICT skills of young people from the perspective of their employability – has been built by the SME Avaelgo. This Romanian company of 10 employees received the recognition of Cloud SME of the month May 2012 by Microsoft's Cloud & Interoperability Centre in Brussels.
Skillage has been built by Avaelgo on the Windows Azure platform, supporting high levels of online traffic that have unpredictable load patterns. Skillage.eu is designed to scale easily to demand, i.e.: when many people access the site, Azure automatically creates new resources to handle data processing and Telecentre-Europe only pays for what is used.
This flexibility has allowed the Skillage portal to scale up in periods of high traffic. To date, it has been used by almost 12.000 young people in 17 European countries. As a creative small enterprise, Avaelgo has exploited the public cloud platform to build a business that directly supports Europe's economy, and for this reason it has been selected European Cloud SME of the month.
» read the complete article at Microsoft Europe's website
» read more on Skillage