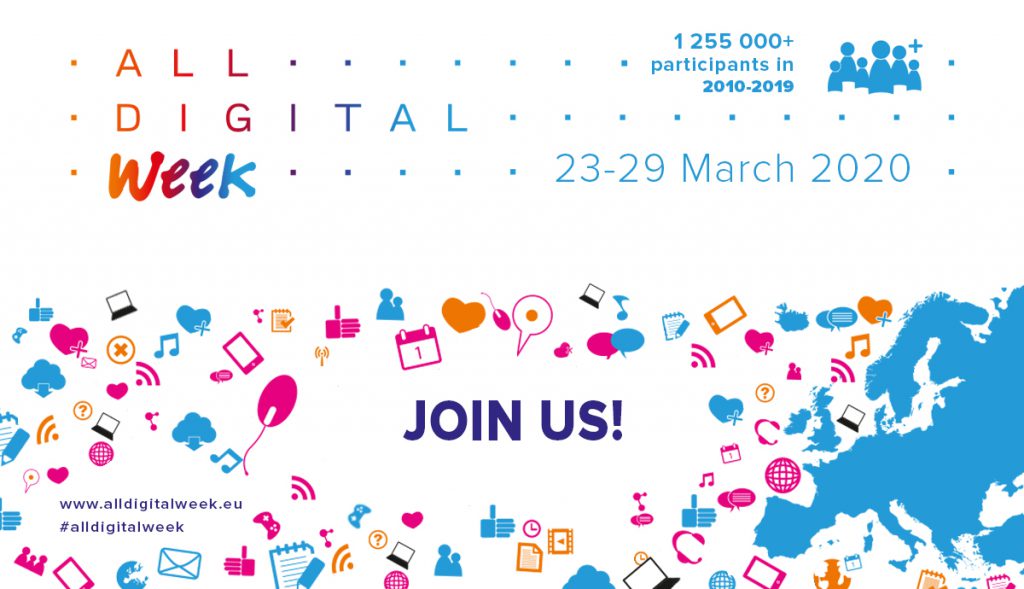 01 Feb

ALL DIGITAL Week 2020

01 Feb, 2020

The 11th edition of the digital inclusion and digital empowerment campaign ALL DIGITAL Week will take place in March-April 2020 with the focus events during the week of 23-29 March. Anybody can join by organising an event and putting it on the All Digital Week map.

---
In the light of the COVID-19 pandemic, we encourage all to have ALL DIGITAL Week 2020 events online only! Learn more about how the format is changed, what is planned and how you can join! Take care and stay healthy!
---
ALL DIGITAL Week strives to give people tools and approaches to develop and enhance their digital skills. Thousands of events training and awareness raising activities will be organised across Europe covering a variety of topics from basic digital literacy, media literacy and digital citizenship to coding, robotics, and STE(A)M skills.
Since 2010, the campaign has involved over 1,255,000 people; for most participants the training during the campaign was their first acquaintance with technology; they made their first clicks and went online for the first time. However, according to Digital Economy and Society Index DESI, 43% of EU Population have insufficient digital skills and 17% have none at all, and ALL DIGITAL Week helps them to start their digital journeys!

Stats from Digital Economy and Society Index report DESI (1,2,3), Fake news and disinformation online report (4), Attitudes towards the impact of digitisation and automation on daily life survey findings (5)
ALL DIGITAL Week 2020 aims to:
Advocate for a lifelong learning approach to enhancing digital skills
Promote media literacy and critical thinking
Build trust in technology by developing cybersecurity and online safety skills
Develop skillsets for workforces affected by digital transformation
What is the target audience?
All Europeans with insufficient digital and media literacy skills! This campaign has something for everyone – no matter the age, gender, nationality, education or employment status.  
What are the highlights?
Anyone can join!
Open to national partners outside of the ALL DIGITAL membership
Open to event organisers in any country (even if there is no national partner) – you can put your event on the map
Contest for the best event among event organisers during the Week
Good Practices from National partners from previous campaigns
Would you like to join the biggest European digital empowerment campaign?
You can organise an event or be a national partner of the campaign!
We invite national networks, umbrella organisations, or those with capacity to have a big regional or national reach to become national partners of the 11th European ALL DIGITAL Week on 23-29 March 2020.  Learn here how to get involved and register
You would like to organise an event in your community? Let us know about it on our map of events! Learn more about organising events
As before, the Unite-IT platform provides networking opportunities for event organisers, hosts the photos, videos and stories from All Digital Week.
>>Learn more and follow the campaign news on the ALL DIGITAL Week website
>>Follow the news on social media (Facebook and Twitter) by using hashtag #AllDigitalWeek