27 Dec

ALL DIGITAL newsletter December 2017

27 Dec, 2017

2017 was the year of renewal for us. In our 10th year, we have become ALL DIGITAL with the launch of the new identity and vision at the General Assembly in Malta. The Get Online Week again was a success engaging 100,000 Europeans, and our ALL DIGITAL Summit in Barcelona was the largest annual event so far bringing over 160 participants. We have a new Strategy for 2018-2020, a new Board, quite a few exciting projects. We are proud to have our members and partner organisations with us, and we will continue enhancing digital skills across Europe together.

Thank you for being with us, and we look forward to working with you in 2018. Get involved in the ALL DIGITAL Week in March, join our e-Inclusion network on Unite-IT; become a member of the Digital Skills and Jobs Coalition; participate in our annual ALL DIGITAL Summit in October, and stay tuned for updates on our projects, events, and other activities.

Happy holidays and a fabulous New Year to you and your loved ones!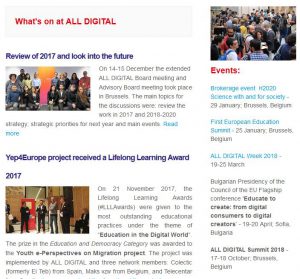 Yours,
ALL DIGITAL Team
In this issue:
What's on at ALL DIGITAL
New Projects Launched
Projects to Look at
News from ALL DIGITAL Members
>>If you wish to receive our newsletter, please sign up by filling in our online subscription form