20 Jun

ALL DIGITAL launched in Malta

20 Jun, 2017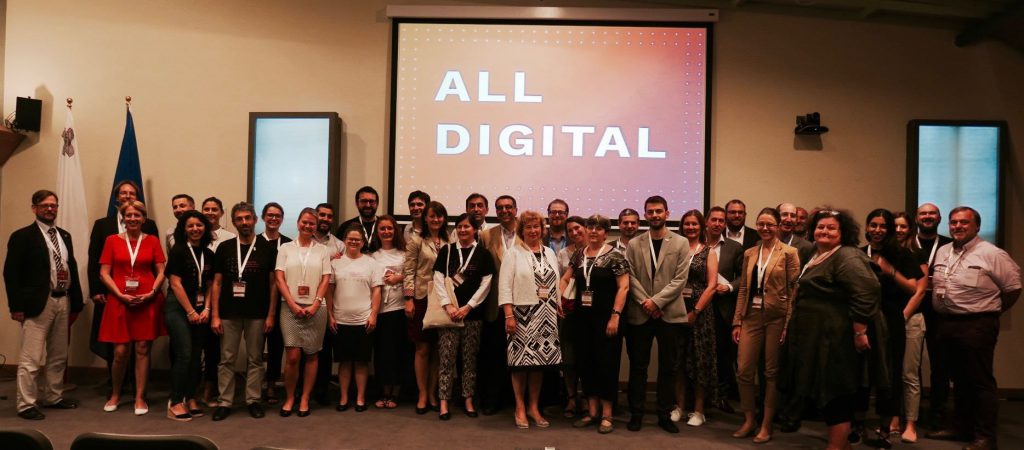 ALL DIGITAL promoted its new branding and vision at the Digital Assembly, organized by the European Commission in Malta, on 16th of June. Our organisation is celebrating ten years of partnerships, campaigns and development in 2017, and became ALL DIGITAL on 22 May.
All staff and Board members have been actively involved in announcing the side event at ALL DIGITAL's booth, where Digital Assembly participants were able to learn more about our work and the new visual identity. Our presentation was attended by 40 participants, representing stakeholders and partners of ALL DIGITAL from various sectors: industry, government, civil society, EU institutions, digital champions.
ALL DIGITAL CEO Laurentiu Bunescu applauded in his speech the EU major achievements on #freeroaming and #wifi4eu that are advancing the European digital transformation. But to reach their full potential and impact, these achievements need to be backed up by skills. Half of the European population is disadvantaged, by lacking basic digital skills in a society that relies more and more on digital technologies.
That is why ALL DIGITAL exists – to enable Europeans to benefit from the digital transformation. We do that by working with 25,000 digital competence centres across Europe, by facilitating investments and building their capacity to train and support those in need to reskill or upskill.
The audience has been invited to watch a short video about the transformation of our organization over the years – from a start-up grassroots organization to a pan-European leading association continuing to represent the grassroots.
After that, Alexander Riedl from EC DG Connect endorsed the work of the digital competence centres, but also their transformation, and the new identity of ALL DIGITAL.
Mara Jakobsone, the Chair of the ALL DIGITAL Board, concluded the event with an invitation to partner. She believes ALL DIGITAL's vision is an ambitious one, but fortunately we are not alone in this. We are aware that only by working in partnership, we will be able eventually to catch up with the technology and ensure Europeans have the right mindset and skills. We look forward to continuing to work with existing partners and members, and we are open to building new partnerships with industry, governments, NGOs and associations, training providers that have common beliefs, so this is an invitation to work together and to support each other.