03 Jul

ALL DIGITAL Newsletter July 2019

03 Jul, 2019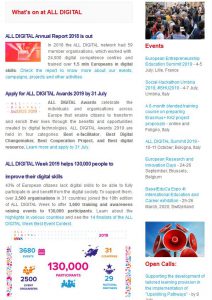 Dear Reader,
What's new in our network? On 23 May ALL DIGITAL had its annual General Assembly, which approved the annual report for 2018 and elected a new Board to lead the network for the next two years. Two of our projects ran their final events and talked about STEM and Science education (UMI-Sci-Ed) and how digital skills foster integration of migrants and refugees (Digital Welcome).
We would like to invite you to apply for ALL DIGITAL Awards and join the training course on preparing Erasmus+ KA2 project proposals in the field of adult education and digital skills.
All that and more in our July newsletter.
Yours,
ALL DIGITAL Team

In this issue:
What's on at ALL DIGITAL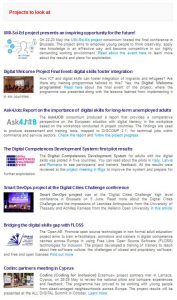 New Project
Projects to look at
News from members
>> Check other issues of our newsletter
>>If you wish to receive our newsletter, please sign up by filling in our online subscription form