06 Mar

ALL DIGITAL Newsletter March 2019

06 Mar, 2019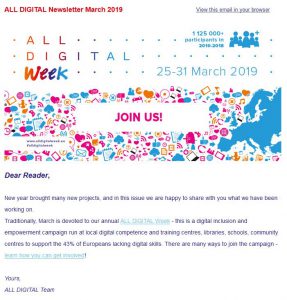 Dear Reader,
New year brought many new projects, and in this issue we are happy to share with you what we have been working on.
Traditionally, March is devoted to our annual ALL DIGITAL Week – this is a digital inclusion and empowerment campaign run at local digital competence and training centres, libraries, schools, community centres to support the 43% of Europeans lacking digital skills. There are many ways to join the campaign – learn how you can get involved!
Yours,
ALL DIGITAL Team
In this issue:
What's on at ALL DIGITAL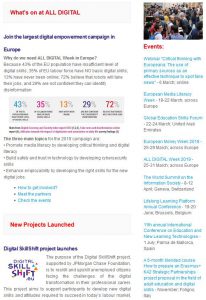 New projects launched
Projects to look at
>> Check other issues of our newsletter
>>If you wish to receive our newsletter, please sign up by filling in our online subscription form