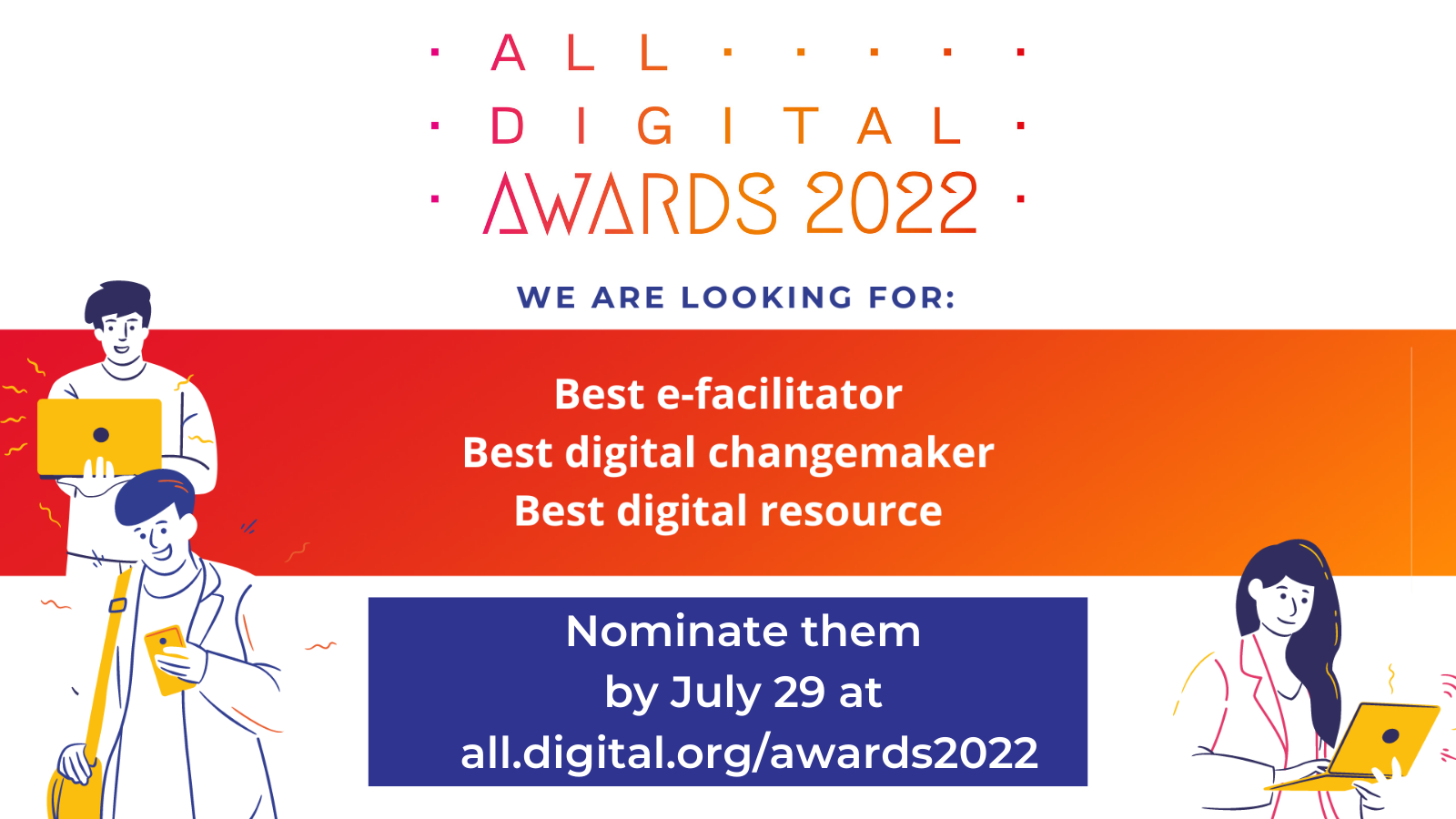 18 Sep

ALL DIGITAL Awards 2022 – Meet the finalists and the winners

18 Sep, 2022
ALL DIGITAL Awards 2022 Ceremony @Prague
The
ALL DIGITAL Awards
 celebrate the individuals and organisations across Europe that enable citizens to transform and enrich their lives through the benefits and opportunities created by digital technologies.












Thousands of individuals and hundreds of organisations around Europe work daily with communities to empower citizens through technology and the Internet: from teaching digital and media literacy and online safety to helping people carry out government, financial or commercial transactions and to training in coding, robotics and cybersecurity. These individuals and organisations often support entrepreneurship and employability in an ever-changing digital environment and labour market and unite different stakeholders in campaigns and projects that aim to ensure digital inclusion and enable digital social innovation.
ALL DIGITAL
 has established the
 Awards 
to recognise and celebrate their innovation, dedication and the inspiring role they play to many people.
ALL DIGITAL Awards 2022 – The finalists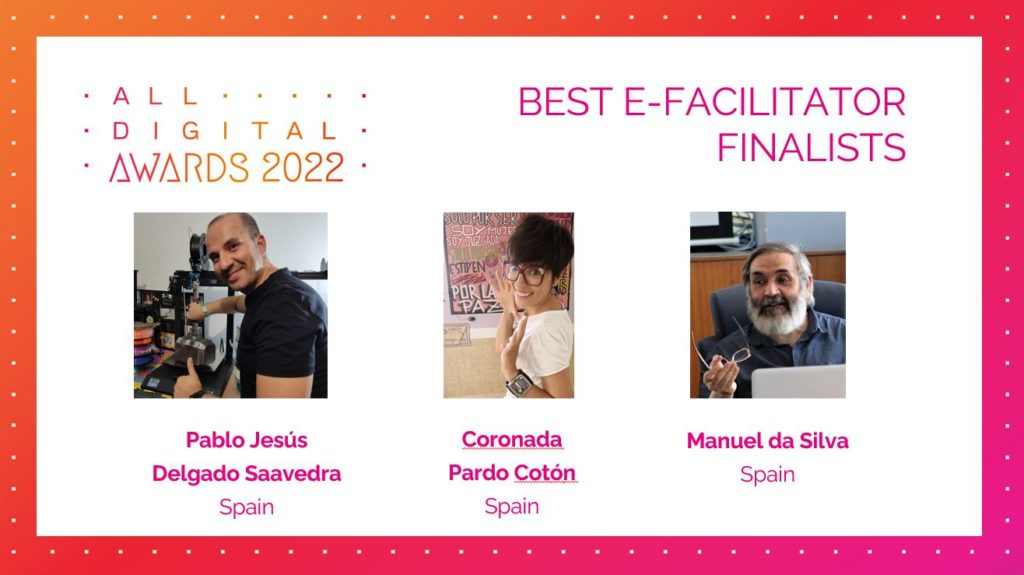 WINNER: Coronada Pardo Cotón – Spain (nominated by Gema Parrado León from AUPEX)
"I am a committed e-facilitator. For 17 years, I work daily with diverse groups on digital and social aspects (mainly with disabled people), using inclusive methodologies to give responsibilities and roles to my students as a form of social inclusion. For me, technical training is not everything. Social aspects and the involvement of the people in the training groups are decisive. A cohesive group can function on their own, generate synergies, work as a team, cooperate and grow all together, and for me, this is the basis for learning digital competencies. I've developed a social innovation project to facilitate the lockers' opening for users with health problems, using 3D printing, as they had difficulty opening them due to their fine motor skills problems." Promotional
video 1
and
video 2
about innovation project with 3D printing.
Pablo Jesús Delgado Saavedra
– Spain (nominated by Gema Parrado León from AUPEX) Pablo is a passionate e-facilitator and trainer at the Digital Competence Centre in Solana de los Barros, a rural town in the middle of Extremadura, where he works with all kinds of groups, especially young people. He develops project-based learning, with a learning by doing philosophy, teaching on key enabling technologies (3D printing, programming, computational thinking…) which have led to the creation of
two innovation projects
in the town: AulaSurEX (a device for measuring temperature, humidity and air quality in buildings during Covid) and Exvital (a device based on NFC technology that stores vital or especially important data on users or animals, which can be accessed from any device).
Manuel da Silva – Spain (nominated by Guillem Porres from Fundación Esplai) Manuel Dasilva's candidacy is a nomination for the perseverance and dedication of a professional dedicated to the digital literacy of older people in rural areas. He has worked for more than 20 years to bring digital skills to one of the most deprived groups. He has always been an advocate of networking and has participated in the creation of spaces for exchange and good practices with other e-facilitators from all over Spain. He is the secretary of the Plataforma Red Conecta Ciudadanía Comprometida, which brings together 40 organisations from the 3rd sector working to fight the digital divide.
WINNER: Ioana Crihana – Romania (nominated by Stefania Stanica from ANBPR)
In her capacity of CEO of the most representative professional association of public libraries in Romania, Ioana Crihană has contributed substantially to reconfiguring the role and mission of public libraries in the process of digital inclusion by promoting the benefits of technology on a large scale. Getting involved in several large projects based on technology, Ioana Crihana has expertise in creating, restructuring, and revitalizing different products, services, and organizations and has been in charge of the digital transformation process both in private and institutional environment. Leading the ANBPR operations, Ioana Crihana supports for over 13 years the network of 41 county branches, with more than 3300 individual and institutional members, to align to the modern services based on technology, to introduce innovation in public libraries and to cultivate new ones skills among librarians and users of library services. In addition, Ioana Crihana has been involved in a series of partnership brokering activities, training sessions, mentoring campuses, etc. in order to transform librarians into facilitators of knowledge in all aspects of library work, with the so important support of technology.
Presentation of ANBPR activities
Tatiana Alexeev
– Moldova (nominated by Evghenia Snitco from Embassy of Sweden in Moldova) Tatiana Alexeev is the Project Manager of the
"Tekwill in Every School" program
– the largest and most impactful educational program in the Republic of Moldova. In just 3 years since its implementation, we've succeeded to develop 8 courses (jobs of the future) that can be accessed for free on the
eLearning platform Tekwill Online
. The curricula of the courses have been approved by the Ministry of Education and introduced in the school program across the country as optional subjects for grades 7 till grade 12 since September 2020. The courses can be studied in both Romanian and Russian languages. Currently, over 1,000 teachers from 333 schools across the country are teaching the Tekwill courses as part of the school program and over 50,000 students have studied at least one Tekwill course, so far.
Antonio Llorente
– Spain (nominated by Guillem Porres from Fundación Esplai) Graduated in Psychology. He is a charismatic leader who has been able to weave alliances with many organizations and public services in the area. He is the promoter of
Social Technology concept
that La Rueca Asociación applies to work through directive technologies in the relentless pursuit of improving the life situation of the people with whom they intervene. Since then, his organization has been able to develop pioneering ICT employment programs with public funds and at the same time has forged alliances with the CSR of Orange, JP Morgan, and Sage.
Social Technology concept presentation
Marina Stanojlovic Mircic
– Serbia (nominated by Bojan Zivkovic from Secondary school Ljuba Nesic) As #MIE Expert for six and Scientix Ambassador for two years in a row, in her Italian and Civics classes, she promotes an innovative teaching approach putting students in the spotlight as a creative protagonists in active learning that communicates with peers in the group and give opinion. She changed the way of teaching Italian language through e-twinning projects and using Microsoft personalized learning tools, and Civic education made it very interesting to her students by introducing STEM content to connect this school subject with real-life situations. Her freshest achievement is a winner in the STEM Discovery Campaign 2022 with
Enery around us
and in Europeana Education Competition 2020 with
implementation of 'Food Tests'.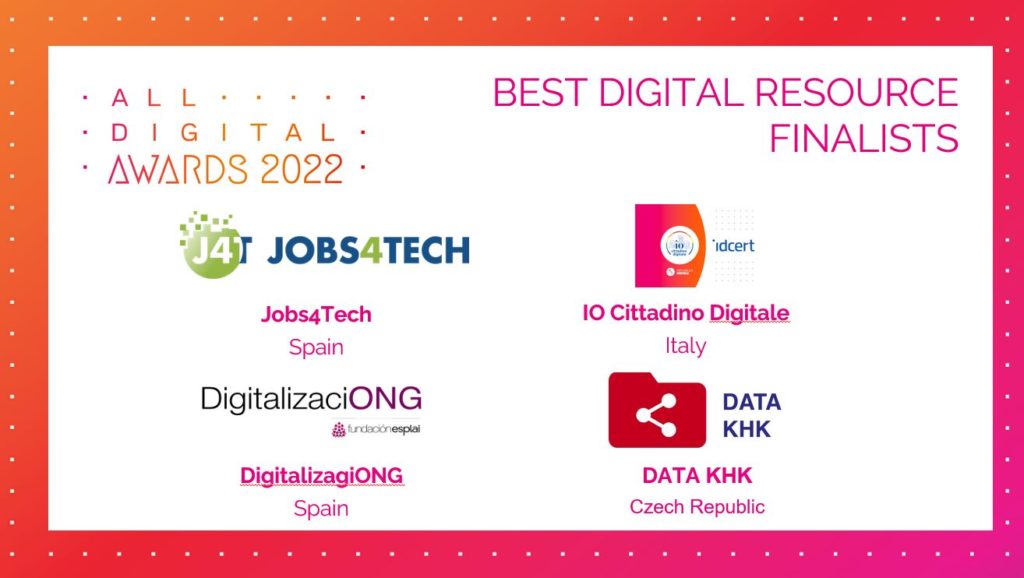 WINNER: DigitalizaciONG by Fundación Esplai- Spain (nominated by Guillem Porres from Fundación Esplai)
DigitalizaciONG is a programme to support social organisations that are starting their digital transformation process in Spain. The aim of the Digitalisation Programme is to help organisations to have a Digital Transformation Plan (DTP) and to accompany them in its implementation and development, based on a strategy of constant accompaniment and advice. Of the 50 entities that responded to the questionnaire, the vast majority are associations: 39 entities, representing 78% of the total. Six foundations also responded to the questionnaire, 12% of the participating entities. Finally, the questionnaire also includes responses from 4 federations and 1 confederation. The project is financed with €86,000, all of which comes from public funds. The project has also been spinoff with the planning of digitization and training plans for large federations, which have been provided with individualized advice and training pathways.
Website information about DigitalizaciONG
Jobs4Tech Competence Evaluation Tool
by Accion contra el Hambre – Spain (nominated by Silvia Rodriguez from Accion contra el Hambre) Jobs4tech evaluation tool is a competence assessment tool based on the EntreComp Framework to assess 8 transversal competencies agreed as the most important for the IT Sector. It's currently being upgraded to also include the 15 digital transversal competencies identified by the 2Bdigital Competence Framework. It provides teachers with an individual report on each student's competence performance and an integrated one for the group, which allows them to adapt training to students' needs and monitor competence improvement. The tool has been used by 30 trainers and 474 learners, impacting their awareness of their own transversal competence strengths and weaknesses. Relevant links:
tool platform, users guide, promotional video
,
2BDIGITAL Competence Framework
.
IO Cittadino Digitale
by IDCERT – Italy (nominated by Lorenzo Tedeschi of IDCERT) "IO Cittadino Digitale" is a free Certificate Course that issues digital skills to citizens, schools, companies, and public employees. It includes video lessons, PDF resources, unlimited exam simulations and a final test. Citizens can spend the IT certificate in public competitions or obtain University Educational Credits and improve their Europass CV. More than 150k Italians successfully achieved the certification. Italian Government program Repubblica Digitale and youth card Carta Giovani Nazionale contributed to its realisation. Any EU partner can join IDCERT by replicating and translating this course since it is based on DigComp guidelines. Link to the online course
IO Cittadino Digitale
DATA KHK
by Regional Authority of the Hradec Králové Region – Czech Republic (nominated by Iva Walterova of EPMA) The data portal DATA KHK of the Hradec Králové region is a central data point for the public and at the same time provides citizens with open data of the region at a highly professional level. The uniqueness lies in the presentation of data sets of open data in the form of map outputs, familiarizing citizens with this issue. The portal has won several prestigious awards. It is the Innovation Award of the Ministry of the Interior in the category aimed at the citizen, and then 1st place in the national round of the Golden crest competition for the most innovative electronic service. The project was included among 40 inspiring projects of digitization of public administration, winning THE BEST 2021. Since its launch, the portal has already had over 5,100 unique users. Relevant links:
data portal of Hradec Králové region, hackathon Hackathony, Czech cybertron – CZECHCYBERTRON, video of Data KHK, video of Hradec Králové region.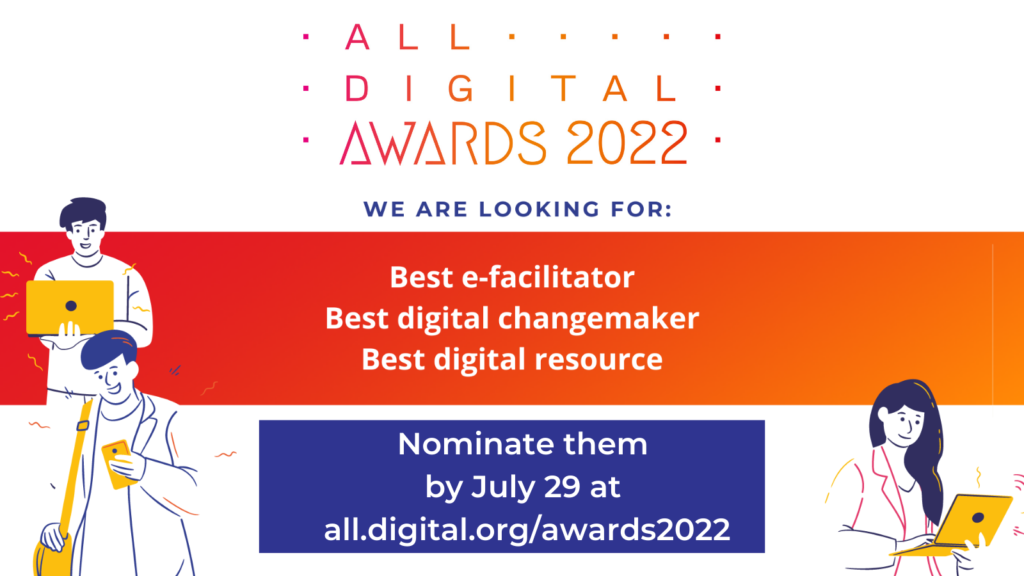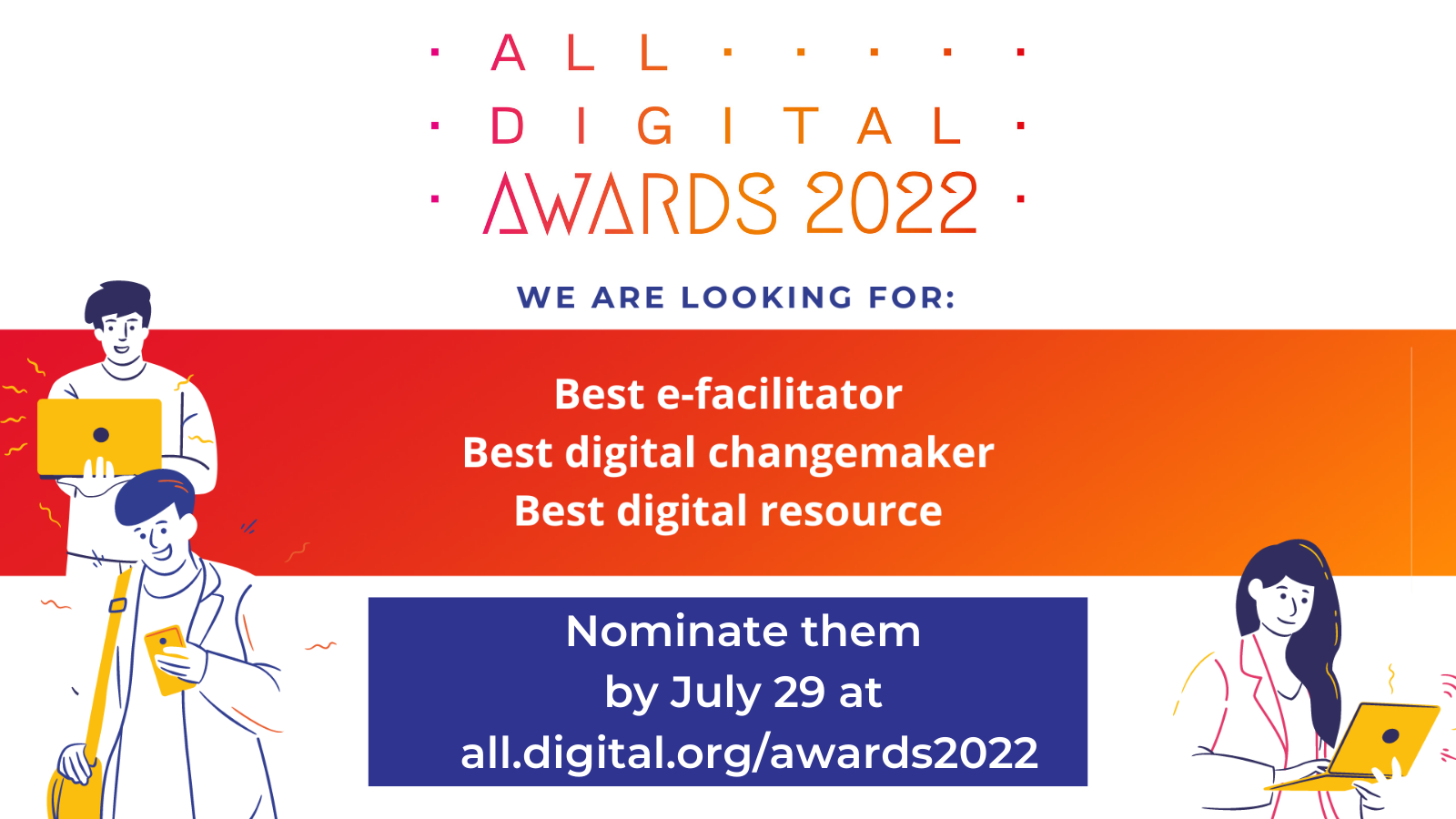 What we celebrate
In 2022,
ALL DIGITAL Awards
recognise individuals and organisations in 3 main categories. Nominate or apply for:
2022 Awards
The Awards ceremony will be celebrated in Prague on
29 September 2022
. The winners will receive the trophies and have the opportunity to present their initiatives to an audience of more than 150 participants.
Read full ALL DIGITAL Awards 2022 application guidelines
Social media:
#AllDigitalEU
#DigitalSkills
#AllDigitalAwards
Background
Previously also known as Telecentre-Europe Awards and Digital Inclusion Awards, they were given to organisations and individuals working in the field of digital inclusion to acknowledge their work. Good practices and nominations used to be presented on the Unite-IT e-inclusion network portal, which was the focal point of information, news, resources, database of practices and policies in Europe with specific focus on ICT for inclusion and social cohesion.
See the finalists and winners of previous awards