15 May

Telecentre.org Foundation bags award at the UN WSIS forum

15 May, 2012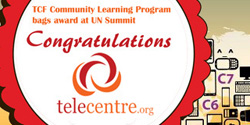 Telecentre.org Foundation's Community Learning Program has been declared a winner of one of the 18 project prizes of the World Summit on the Information Society (WSIS)  taking place this week in Geneva, Switzerland (14-18 May). More than 170 projects from 50 countries were nominated.
The prizes, which are being awarded for the first time this year, recognize excellence in the implementation of projects and initiatives which further the goals of WSIS in improving connectivity to information and communication technologies (ICTs) in line with the 11 Action Lines laid out in the
 Tunis Agenda agreed at WSIS in 2005.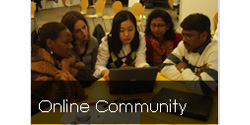 The Community Learning Program won under the category "Cultural diversity and identity, linguistic diversity and local content". Telecentre.org Foundation (TCF) will be formally presented with the award later this week at the WSIS Summit.
Congratulations to the winners and a big thanks to the TCF Community Learning Coordinators and telecentre.org community members for their continued efforts in helping this community grow and stay vibrant over the years. Well done, everyone!
» Read the full article at Telecentre.org Foundation's community site