10 Apr

Telecentre Europe Summit 2008

10 Apr, 2008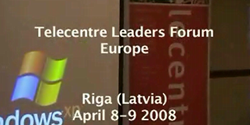 On April 8-9, 2008, more than 60 telecentre practitioners from 43 organisations, representing 23 countries across Europe, met for the European Telecentre Leaders Forum (TLF-E) in Riga, Latvia.
The most urgent need was to create and build a community of people, who believe in the power of ICTs as tools for development and appreciate the value of knowledge sharing.
The Latvian Information Technology and Telecommunications Association (LIKTA) was the host. Professor Imants Freibergs, LIKTA Board Member and President, Latvia@World initiative, Meddie Mayanja, telecentre.org and Melissa Pailthorp from Microsoft welcomed the participants to Riga. Nick Batey, Representative, Directorate General for Information Society and Media, European Commission (EC) participated in the event and shared insights into EC issues. Nick underlined the importance of e-Inclusion and, emphasised the role of telecentres to the prosperity of Europe. One has heard of, "…telecentres are a social investment", but he provided another dimension, "…telecentres are also an economic opportunity… Europe could reap Euro 35-45 billion over the next 5 years by investing in efficient telecentre activities that drive e-Inclusion…"


At the meeting, participants shared innovative practices on e-Inclusion and identified ways to help NGOs and telecentre practitioners find resources for sustenance. The agenda was interactive and collaborative, designed to share knowledge, seek insights and answers to challenges. Sessions featured exciting projects and innovative practices, and also considered issues of strategy and sustainability of telecentre networking in Europe. All participants were encouraged to take up active roles to shape dialogue and help create event outcomes.