08 Mar

Get Online Week 2012 launched!

08 Mar, 2012
The Launch event of Get Online Week 2012 was a big success. The event took place in the context of Telecentre Women: Digital Literacy Campaign of Telecentre.org on International Women's Day March 8 at Telecentre-Europe AISBL's headquarters in Brussels and was hosted by our Belgian member organization Interface3, a telecentre network run by women for women.
Commissioner Neelie Kroes, EC Vice President and in charge of the Digital Agenda for Europe opened the event with a speech, adressing the role of women in ICT for empowerment, employment and growth.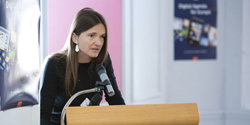 Laure Lemaire, Director of the hosting organisation Interface3highlighted the role telecentres play in creating tools that can help policy makers to have a better understanding of ICT skill levels of young people across Europe.
Ian Clifford, Deputy Chair of Telecentre-Europe, underlined that in a time were youth unemployment is extremely high, supporting young people is the key to unlocking economic challenges: "A number of studies have highlighted the shortcomings in young peoples' ICT skills for the modern workplace, which will be necessary for 90% of jobs in the near future".

After, an interactive, participatory workshop session took place with demonstrations of Skillage (lead by Telecentre-Europe) and Internet buttons (lead by Tori Flower from  Liberty Global) and creative methodologies (lead by Cheryl Miller from Greenlight for Girls and Melodie Imbach from Interface3) used by digital inclusion practitioners to engage and empower users.
Then Ian Clifford (Telecentre-Europe) moderated a round table discussion with Linda Coregudo Steneberg (European Commission), MEPs Silvia-Adriana Ţicau (Romania), Edit Herczog (Hungary), industry & government representatives Genevieve Bell (Intel), Sylvie Laffarge(Microsoft), Alexandre Arens (SPF Justice), telecentre network representatives Gabriela Barna (EOS, Romania), Ekaterina Fedotova(PH, Russia) and Laure Lemaire (Interface3, Belgium), together with Felicitas Sauerbrei, participant of greenlight for girls and Isabelle Van Campenhoudt (ex-trainee of Interface3 and now Data & Bi Branch Manager at ICT7).
At the end of the event, the Get Online Week counter was launched by MEPs Silvia-Adriana Ţicau (Romania) and Edit Herczog (Hungary).