29 Feb

Get Online Week Launch event set for 8th March

29 Feb, 2012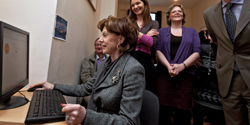 The 2012 Get Online Week campaign will be launched at a special event with stakeholders on International Women's, Day 8 March 2012, at Interface3, a Telecentre in Brussels, run by women, for women.
Get Online Week, a pan-European digital inclusion campaign organised by Telecentre-Europe, involves more than 25.000 Telecentres operated by staff and volunteers in local communities across the EU and neighbouring countries.
In 2012, Get Online Week – which will take place 26-30 March – will involve thousands of local telecentres, public venues such as libraries, NGOs and education centres in at least fifty countries across and beyond Europe helping more than 200.000 people start their first online journeys. In 2011, Get Online Week reached 112.000 peopleacross Europe.
This year, the Telecentre networks will introduce exciting new products that will help people learn, and will address important issues such as: youth employability, women in ICT, intergenerational learning, active ageing, social engagement and civic participation.
Get Online Week 2012 will reach out to young people and help them not only get online, but also help them achieve more by being online. It will raise awareness about the importance of digital inclusion, highlight the efforts of local Telecentres, and raise awareness of the importance of e-Skills. The campaign is being run in parallel with the European Commission e-Skills week campaign.
» Get Online Week 2012 launch event program
» Watch the video of the launch event of Get Online Week 2011