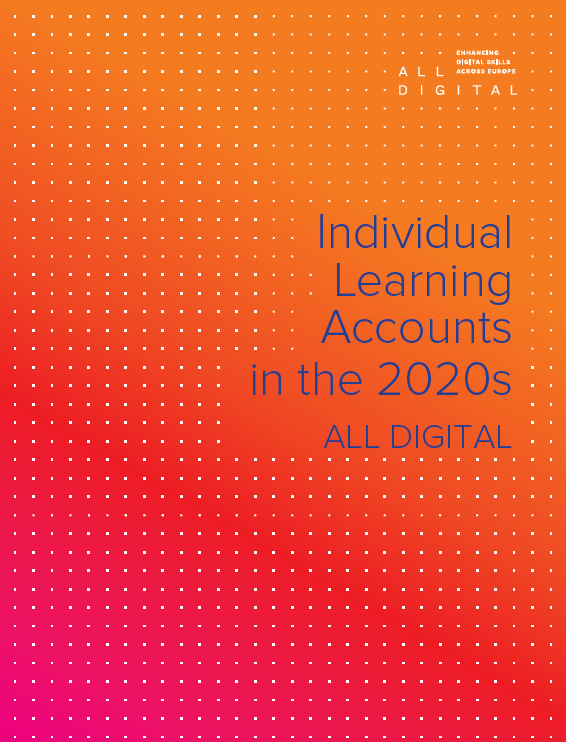 01 Jul

Individual Learning Accounts in the 2020s event report

01 Jul, 2020

ALL DIGITAL hosted a high-level event entitled Individual Learning Accounts in the 2020s on 18 February 2020 with eminent keynotes speakers, an expert discussion panel and an invited audience of around 60 stakeholders.

The event explored the models and opportunities that arise from implementing Individual Learning Accounts (ILAs) in the 2020s across Europe. In the digital job market ILAs could be highly relevant to make training rights portable from one job or employment status to another, and they could have a huge impact on the digital skills gaps countries are facing, supporting competitiveness and economic development.

The event included two keynote presentations and a panel discussion with questions and answers.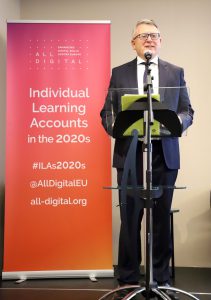 Commissioner for Jobs and Social Rights Nicolas Schmit gave a keynote on his mission to "explore ILAs in Europe". The Commissioner talked about the clear need for a "re-skilling revolution" in the light of changing job markets and evolving technology with "40% percent of employers having difficulties in finding candidates with the right skills, and 70% of European enterprises reporting lack of skills hampers their investments".
Stefano Scarpetta, Director for Employment, Labour and Social Affairs of the OECD, gave a presentation on the OECD report entitled "ILAs: Panacea or Pandora's box", which has comparisons of ILA models from around the world, the most promising model being Compte Personnel de Formation from France.
AGENDA
 Welcome
        – Renato Sabbadini, CEO, ALL DIGITAL
Keynote addresses
    – Nicolas Schmit, Commissioner for Jobs and Social Rights, European Commission
    – Stefano Scarpetta, Director for Employment, Labour and Social Affairs, OECD
Panel Discussion
    – Hanka Boldemann, J.P. Morgan Global Philanthropy – Moderator
    – Antoine Saint-Denis, Director Europe and International, DG Jobs & Vocational training, Ministry for Labour, France
    – Eva Maydell, MEP, EPP, Member of Committee on Industry, Research and Energy
    – Brikena Xhomaqi, Director, Lifelong Learning Platform
    – Robert Plummer, Senior Advisor, Business Europe
 Summing up
    – Professor Achilles Kameas, Hellenic Open University, Chair of ALL DIGITAL
REFERENCES: