27 Feb

ALL DIGITAL Newsletter February 2021

27 Feb, 2021
Dear Reader,
Spring is around the corner! Let it be filled with new growth – of new partnerships, new useful tools, informative events, and innovative projects supporting digital skills for all. ALL DIGITAL and our members are involved in many of those, and we are happy to share them and invite you to join us.
Discussions in the communities of practice for DigComp and Digital Competence Certification, the 12th edition of All Digital Week with various events from ALL DIGITAL and partners; reports, curricula, training opportunities and lots of new projects to follow – in our newsletter.
In this issue:
What's on at ALL DIGITAL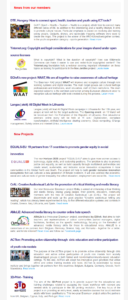 News from our members
New Projects
Projects to look at
>> Check other issues of our newsletter
>If you wish to receive our newsletter, please sign up by filling in our online subscription form