22 Sep

ALL DIGITAL Newsletter September 2020

22 Sep, 2020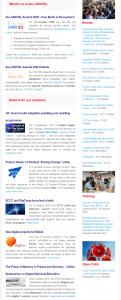 22 September, 2020
Dear Reader,
Our main news is about our upcoming ALL DIGITAL Summit on 7-8 October. It has been converted into an online event with a hybrid component at the local level in a few key locations, including Radialsystem in Berlin – the original venue for the Summit; Brussels – home of ALL DIGITAL; Foligno in Italy, and wherever our speakers are coming from.
We are very grateful to our partners in Berlin – Helliwood, JOBLINGE, Digital Opportunities Foundation – for the support for the event despite these difficult circumstances, and to the German Federal Ministry for Economic Affairs and Energy for the support of the Radialsystem venue.
Many of us will miss currywursts in Berlin, but thanks to our friends there and throughout Europe, the ALL DIGITAL Summit 2020 will rock even more! No need to travel to a distant location, no quarantine, no tests, no hustle… You can join at your own pace from the comfort of your own home or office!
Learn more about our Summit and many other events (all online), check updates from the projects and news from our members in this newsletter.
In this issue:
What's on at ALL DIGITAL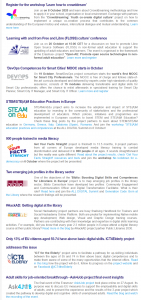 News from our members
Projects to look at
>> Check other issues of our newsletter
>>If you wish to receive our newsletter, please sign up by filling in our online subscription form