20 Nov

New Unite-IT network project kicks off at a partner meeting in Timisoara

20 Nov, 2012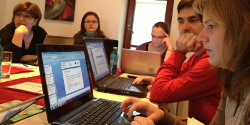 During 19-20 November the kick-off meeting of the Uniting Europe through digital empowerment (Unite-IT) took place in Timisoara. Unite-IT is a 36-month network project aimed at raising awareness and foster sharing and joint actions to overcome the digital divide. For its implementation, Telecentre-Europe AISBL has partnered with 7 of its member organizations and the European Students Union (ESU) and received co-funding from the EU Life Long Learning Programme (Transversal programme – KA3-ICT Networks). 
The project aims at sharing knowledge, exchange of practices, set up debates in key topics and develop new strategic partnership involving actors across societal domains to contribute to overcome the digital divide and promote the acquisition of digital competences by groups-at-risk of exclusion.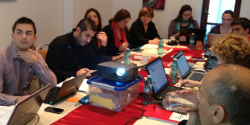 The Unite-IT network will involve relevant actors across all societal domains (business, societal organisations, education and training stakeholders; user organisations, etc.) to identify the enabling conditions, success factors, barriers to digital competence provision and acquisition by groups-at-risk of exclusion, and foresee further steps to be undertaken to reach the aim.