06 Apr

Get Online Week 2017: International partnership supports digital skills, empowering all

06 Apr, 2017
On 27 March – 2 April, 2017, 27 national organisations with their 5,000 partners ran thousands of events and activities to bring Europeans online and to enhance their digital skills during the eighth Get Online Week (#GOW17).
Since its first edition in 2010, GOW has always been a truly multi-stakeholder campaign bringing together formal and informal training providers, local and national authorities, other public institutions, IT and other industries in a joint effort to show the benefits of digital skills and support the digital inclusion. The campaign has transformed over the years, the topics have changed, but the essence has stayed the same –  digital skills underpin every area of our modern internet-connected life and the impact of gaining digital skills, confidence, and security is huge.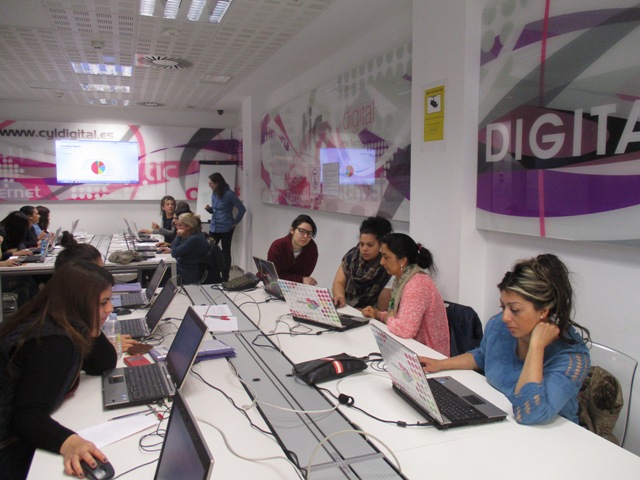 From learning how to spot 'fake news' and robotics for beginners to 'cybersecurity' and 'digital skills galaxies' – thousands of events took place across Europe during GOW17. Please see the early snapshot of some of the GOW17 activities
In 2017 the campaign highlighted the benefits of digital transformation, but also the importance of partnership in helping people and organisations to develop skills and a mindset to adapt to and take advantage of the constant changes.
Telecentre Europe is proud to announce that this year's Get Online Week was held under the patronage of Mr Tibor Navracsics, Commissioner for Education, Culture, Youth and Sport: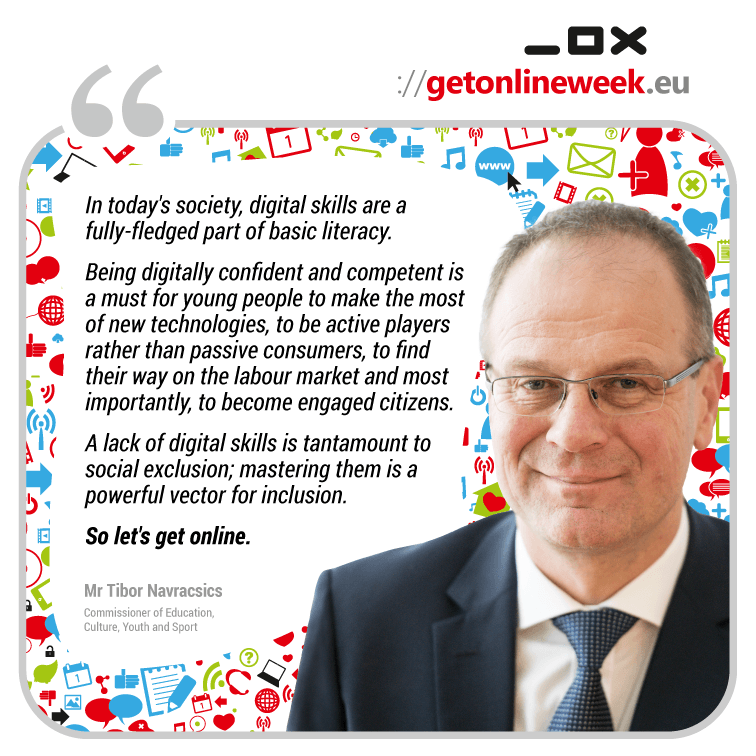 The GOW17 campaign was supported by our corporate partners – Liberty Global, Cisco, Certiport, and Mozilla Foundation. This alliance brings in their expertise and resources, including training and certification programmes, teaching materials with guidelines, lesson plans, videos and other online tools for both trainers and users of various ages and levels of digital skills.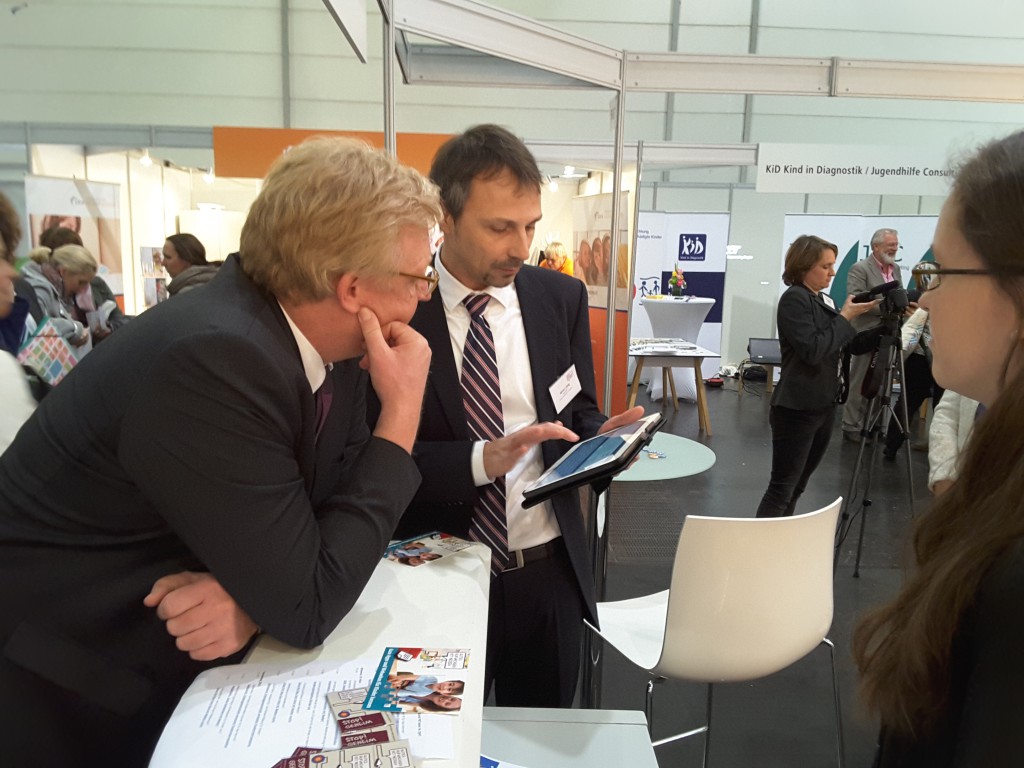 Thanks to collaboration with CISCO, 25 Networking Academies will be opened by National Partner organisations from five countries, which will teach NetAcad Courses.
Certiport has joined the Alliance for the first time and presents its IC3 Digital Literacy Certification, a solution for those who plan to pursue a career in IT or simply become more effective with technology and presents . "Certiport, a Pearson VUE Business, is excited to participate in Get Online Week", says Nicholas Haber, Director STEM & CTE.  "The topics of cybersecurity, e-Services, employability and entrepreneurship resonate because our trusted credentials help individuals and organizations build bridges between education and careers."
Through another new partnership, with Mozilla Foundation, Copyright and intellectual property issues were highlighted within the campaign events as well as teaching activities on web literacy and creating web content. "Mozilla supports Get Online Week EU because people everywhere should have the knowledge they need to tap into the full power of the Internet and to use it to make their lives and the world better", says Melissa Romaine, Advocacy Network Manager at Mozilla.  "This means that everyone needs the skills to read, write and participate online. For this to happen, web literacy must be foundational in education, alongside skills like reading and math. "
Learn more about the GOW17 Alliance and the resources the partners bring
To raise awareness about the campaign, Telecentre Europe's CEO Laurentiu Bunescu spoke at the European Internet Forum Breakfast Debate 'Digital skills of tomorrow' on 29 March. The debate focused on delivering opportunities for digital skills development to EU citizens – in order to tackle both unemployment and social exclusion. Laurentiu Bunescu says, "We need to make the most of the opportunities provided by Get Online Week, when Europe is again standing up for the importance of digital skills. At the event on 29 March, we reached out to new stakeholders to partner and to join the campaign, to support more people with the skills they need."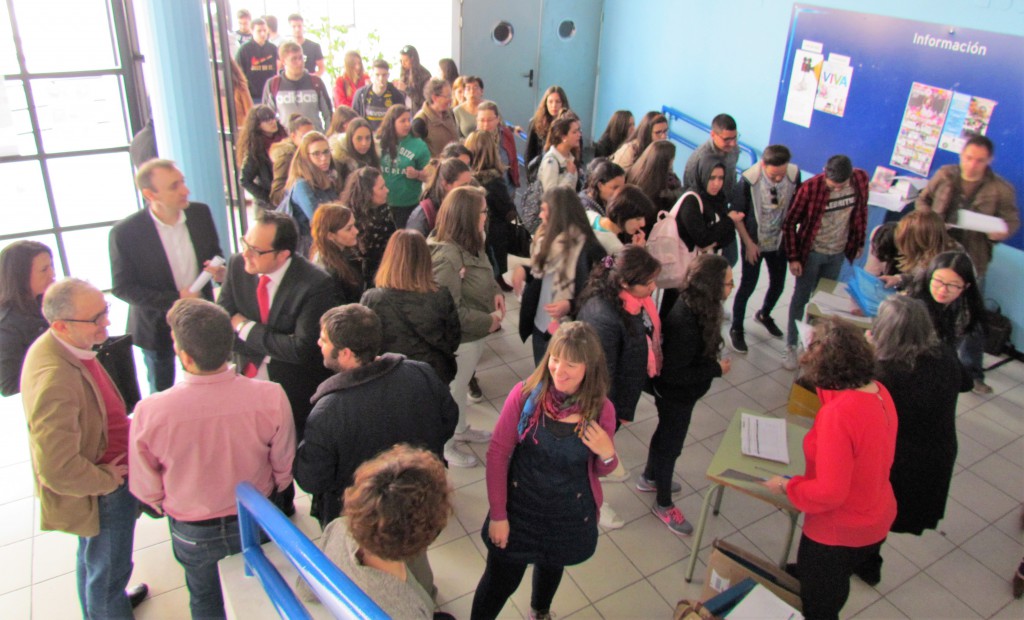 Please see the video of L. Bunescu talking on digital skills and GOW at the EIF Debate
This year, I-LINC was the platform to share stories and discuss the Get Online Week events and activities. You can check the Articles and Research section of the platform to get the latest news on GOW17 in various countries from our National Partners and our Young I-LINC Digital Changemakers.