17 May

The Get Online Week Report is here!

17 May, 2013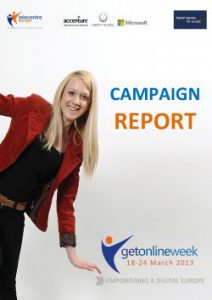 Today is the  World Information Society Day 2013 and to celebrate, Telecentre Europe is proud to publish the official Get Online Week Report.
The focus of the Get Online Week (GOW) in 2013 ( March 18-24th) was on youth and, more precisely, on how to direct a greater number of young people towards digital qualifications and jobs. During the GOW 2013, our active network of national Get Online Week campaign partners joined efforts with ICT companies and public authorities and organised a range of activities in both urban and rural areas to empower young people to use technology.
For more information on the activities in each of the participating countries, the story of the initiative and the impressive Campaign numbers, please download the full report here.