06 Feb

Active preparation for Get Online Week 2013 going on in Latvia

06 Feb, 2013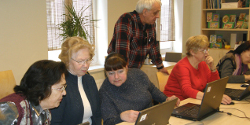 With less than 40 days left till Get Online Week 2013 (18-24 March) will start all over Europe, in Latvia the preparation activities have reached their peak. 
As in previous years, the GOW 2013 in Latvia is coordinated by the Latvian Information and communication Technology association (LIKTA), together with The Ministry of Environment Protection and regional development.
Already more than 100 partners from the public sector, the ICT industry and the NGO sector have signed up for the week activities, offering different e-Skills and e-services related trainings, competitions, workshops and online seminars.