16 Mar

European Get Online Week 2015: 23-29th March

16 Mar, 2015

Contrary to what many people may believe, not every European is digital yet. But we're getting there. Thousands of non-formal education providers such as telecentres, non-profits and libraries are already busy bridging the gap. They work throughout the year to get people online, improve their digital skills and provide pathways to civil participation and employment.

Telecentre Europe celebrates the work of all these digital inclusion and empowerment organisations this March 23-29th through our flagship initiative, the European Get Online Week (GOW). The Campaign will see the involvement of 24 countries and directly target more than 50,000 Europeans. The objective is to reach a wide audience as possible and specifically those who are not used to technology and online tools or who may benefit from expanding their digital skill-set. Most of the organisations implementing the activities in their countries are called National Partners and are also active members of Telecentre Europe.

Activities and themes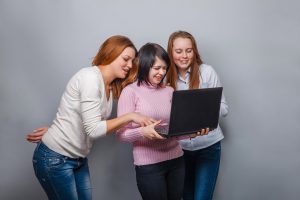 Most of the GOW activities will be locally run in community centres, telecentres, ICT learning hubs, public libraries, schools, universities and other organisations, depending on the 24 countries involved. This year, Get Online Week has two overall and main themes:
1. Digital Empowerment: we would like to address primarily young people and those who are unemployed, in order to raise awareness about the existent skills gap and employment opportunities related to these skills.
2. Digital Inclusion: we are also reminding society that many people still do not have access to technology and Internet, and therefore we need to make an effort to attract first time computer users to the online world.
In terms of sub-themes, GOW will for the first time these year include coding for inclusion activities in telecentres, through which participants will be able to learn how to code. We will also encourage the introduction of e-participation tools to communities, so that new audiences can find out how to participate actively in their local, national and European decision-making processes. There will also be activities to attract small and medium companies to go digital, through workshops and mentoring.
Context
Since 2010, the year in which GOW first started, over 700,000 people have been involved in campaign activities. This year is Get Online Week 6th edition.
GOW 2015 was launched today in Riga, as the first milestone of the European Commission's eSkills for Jobs Campaign 2015 by Telecentre Europe's Chair Mara Jakobsone. GOW is once again part of the eSkills for Jobs campaign and this enhances its impact and visibility.
Microsoft and Liberty Global also continue their commitment to support the Get Online Week in 2015.
For more information: www.getonlineweek.eu, TWITTER: #GOW15 @tc_europe
Contact: Laurentiu Bunescu, Campaign Manager (laurentiu.bunescu@telecentre-europe.org)