28 Mar

Get Online Week 2013 – initial results

28 Mar, 2013
Thousands of Europeans were digitally empowered during the Get Online Week campaign of Telecentre-Europe. Between 18 and 24 March 2013, more than 10.000 ICT learning centres, libraries & schools in 26 countries supported over 100.000 people in their online journeys.
Telecentre-Europe is very pleased with the massive effort done by its partners during Get Online Week 2013 and its astonishing outcomes. In just one week, the European ICT learning centres, libraries, schools, etc. have changed the lives of so many people and proved once more why they are at the frontline of digital empowerment and inclusion.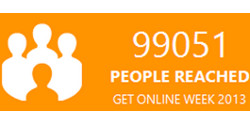 » Continue reading at the GOW website