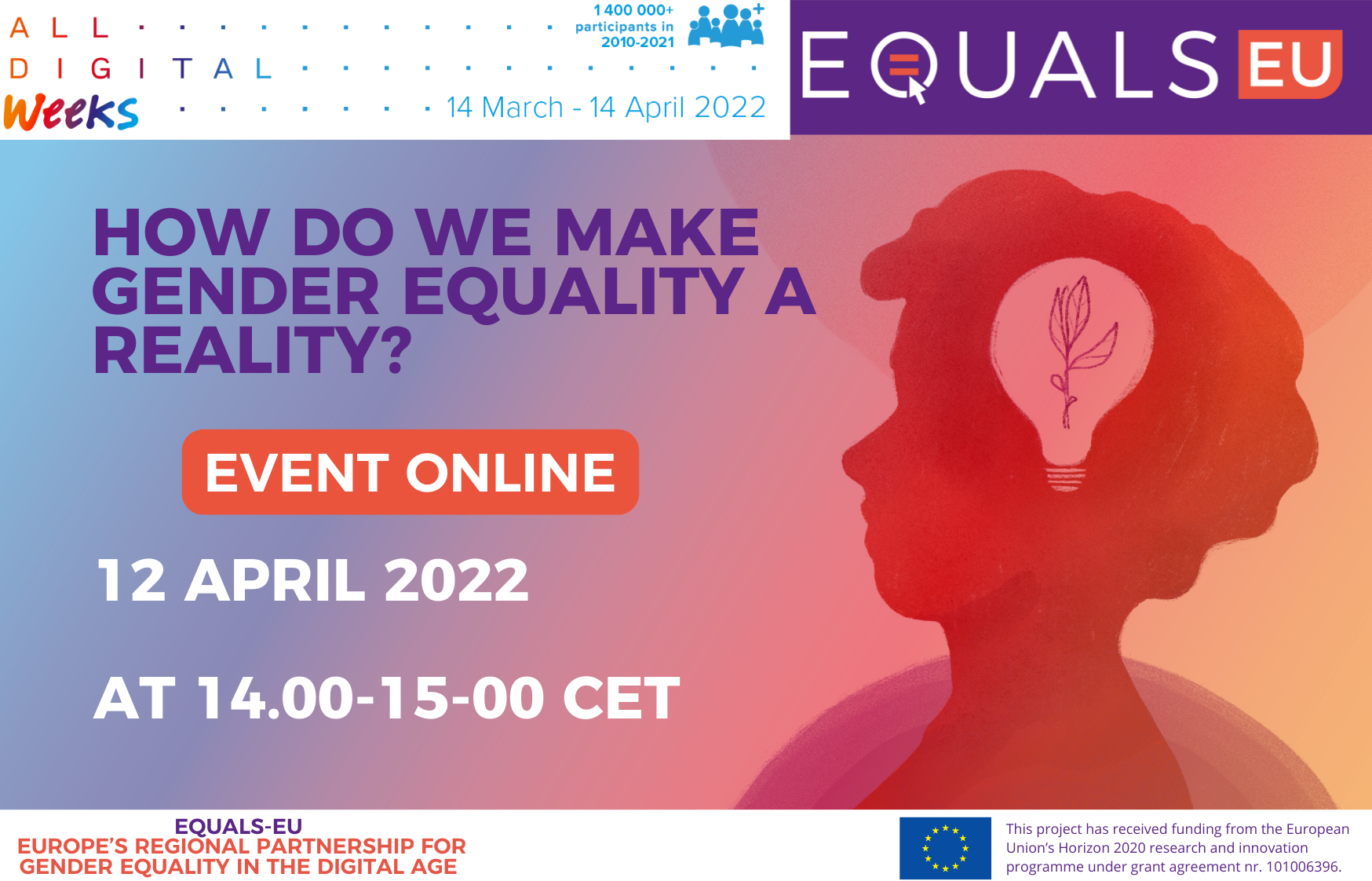 30 Mar

12.04 EQUALS-EU – How do we make gender equality a reality?

30 Mar, 2022

Gender equality is still a challenge. EQUALS-EU project aims to promote gender equity in social innovation by both creating smart, sustainable and inclusive innovation ecosystems and strengthening existing and new networks for social innovation and entrepreneurship through multilateral partnerships.

EQUALS-EU pursues several specific objectives: first of all, the project wants to support activities in the form of interdisciplinary, intersectoral, innovation camps and hackathons, focused on digital inclusion and gender equity sustainability; high level seminars; online and face-to-face mentoring, training and lifelong learning programs and courses and finally promotion and implementation of gender-inclusive policy and business development tools, to increase entrepreneurial competences and inspire the next generation of innovators.

Many tools for a unique aim: to achieve gender equality and to strengthen gender mainstreaming efforts.

Watch the event here

14.00-14.05

Peter Palvolgyi, ALL DIGITAL CEO

Introduction to ALL DIGITAL and ALL DIGITAL Weeks

14.05-14.15

Andrea Bedorin, ALL DIGITAL

Introduction of the EQUALS-EU

Tamara Dancheva, GSMA

Overview of EQUALS  Global Partnership for Gender Equality in the Digital Age

14.15-14.30

Caroline Wamala-Larsson, Stockholm University (Presentation)
Presentation of WP1: Appraise Gender Equity Social Innovation Ecosystems

14.30-14.45

Tamara Dancheva, GSMA (Presentation)
Presentation of WP4: Exchange Knowledge and Transfer Technology for Gender Equity

14.45-14.55

Caroline Wamala-Larsson, Stockholm University WP1 survey presentation and call for contribution

14.55-15.00

Q&A and Closing remarks

About the speakers

Ms Tamara Dancheva for over a decade has worked in various roles in global organizations, with a primary focus on gender equality, human rights and international relations. In her current role as Senior Manager, International Relations within the External Affairs and Industry Purpose department at the GSMA, she is responsible for leading on GSMA's strategy in the international digital gender inclusion space. She also leads on GSMA's partnerships with UN Women, the EQUALS global partnership for gender equality in the digital age, the Generation Equality Innovation and Technology Action Coalition and the Commonwealth Businesswomen's Network among others.

Ms Dancheva is currently a member of the European Union Delegation to the W20 Engagement Group of G20 and Co-Chairs the W20 Working Group on Rural Women in this capacity. Additionally, Ms Dancheva has extensive experience in political party systems and democracy stemming from a previous role as Head of the Human Rights Programme for Liberal International. She holds a Bachelor's Degree in International Business from Rockhurst University (Kansas City, MO, USA) and a Master's Degree in Politics and Government in the European Union from the London School of Economics (London, UK).

Ms Caroline Wamala-Larsson is an Associate Professor in gender studies and is working as head of research at the Swedish Program for ICT in Developing Regions (SPIDER) at Stockholm University, department of Computer and Systems Sciences. Located in the Gender and Technology discipline, Caroline's research focuses on the use of digital solutions and gender as a point of analysis.

Caroline has a bachelor of commerce degree, a Masters degree in Science, Technology and Society with an elective in Gender and Technology, and a PhD in Gender and Technology. She has worked practically and scientifically in the field of digitalization for gender equity over the past 18 years. Her research acknowledges the mutual construction of gender and technology, contributing a deeper understanding of the cultural embeddedness of digital technologies.