30 Nov

Digital Journeys at ALL DIGITAL Summit 2018

30 Nov, 2018

On 18-19 October 2018, 180 delegates from 120 organisations in 30 different countries across Europe attended the 11th ALL DIGITAL Summit 2018 titled 'DIGITAL JOURNEY: FROM INCLUSION TO EMPOWERMENT'. The event was organized at Hotel Bloom in Brussels by ALL DIGITAL with the local partner Maks vzw and it was supported by Google. The summit proposed and debated ideas and solutions that address the challenges of supporting citizens with their digital journeys in an ever-changing social and technology landscape.

ALL DIGITAL Summit 2018 was co-organised by two projects and hosted their final events: BRIGHTS "Boosting Global Citizenship Education using digital storytelling" and HURISTO: Human Rights Storytelling.
180 representatives from various non-profit organisations, libraries and digital competence centre networks, as well as policy makers, government bodies and private companies attended the summit. During the 1.5 interactive days participants joined the plenary and interactive sessions to explore the role of digital skills to improve media literacy, integration of migrants and refuges, human rights protection, as well as global citizenship education and addressing societal issues in a smart and inclusive way.
The Summit was opened by welcome speeches from ALL DIGITAL CEO Laurentiu Bunescu, Chair of the Board Mara Jakobsone, and Valeri Rajkovcevic, Equal Opportunities Advisor to the State Secretary of the Brussels-Capital Region.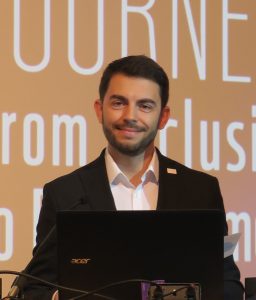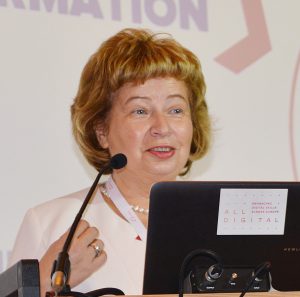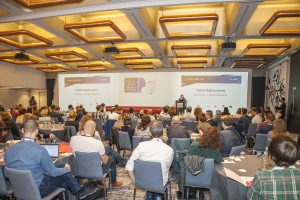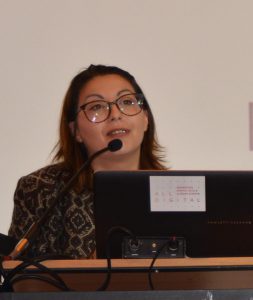 The scene for the event was set by the opening plenary session, which followed the "journey" from inclusion through media literacy and empowerment to excellence. First, Antoaneta Angelova-Krasteva, Director for Innovation, International Cooperation and Sport at DG EAC, European Commission presented the European landscape mentioning some of the most important EU policy initiatives in the education field. Then Joe Lambert, founder of the StoryCenter – the first centre for Digital Storytelling in the US, talked about digital inclusion as the first step on the journey. He focused on digital storytelling methodology as a very effective and proven low-threshold method for digital and social inclusion. The "journey" was continued with getting more confident with digital skills as shown by Fernando Trujillo Saez, senior lecturer at the University of Granada, content creator at Conecta13, a spin-off which develops MOOCs. He spoke about digital and media literacy and full participation in the digital world. Marc Durando, Executive Director of European Schoolnet, the network of ministries of education, emphasized the importance of STEM skills and using technology to address societal issues.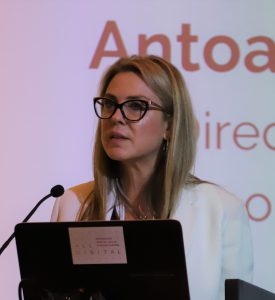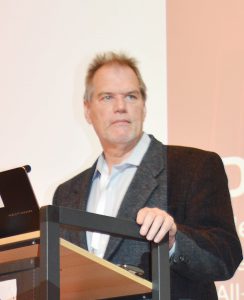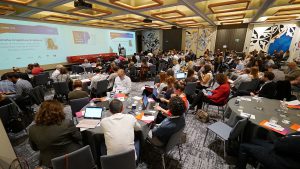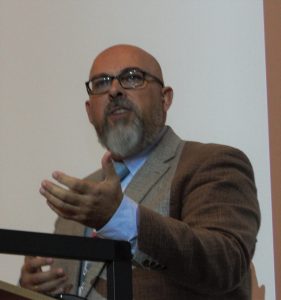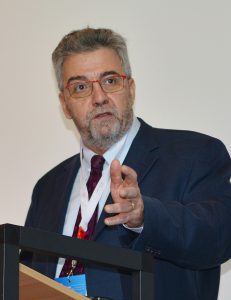 With lots of food for thought, participants then dived deeper into the digital storytelling waters during the Panel Discussion: How can digital storytelling boost social inclusion?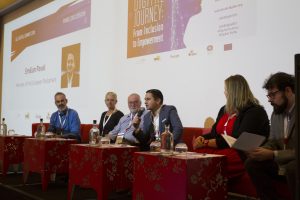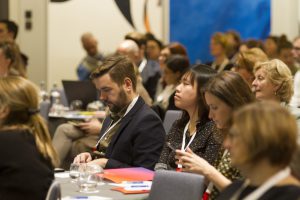 Plenaries were followed by two interactive break-out sessions – group discussions and how-to workshops.
In parallel group discussions, summit participants explored one of the five topics – certain "stops" in the digital journey: 1) Global citizenship education in digital competence centres; 2) IT skills for young refugees and migrants; 3) Adult education on basic digital skills; 4) Youth work with Digital; 5) Digital storytelling with illiterate adults.
The following How-to workshops were designed to give delegates a practical understanding of how to carry out a specific activity. The trainers shared their experience to help delegates understand the pitfalls, practicalities, tips and tricks and lessons learned. Workshop leaders produced simple 'guides' to their subjects, and via links in the main publication on the  you can learn both about the workshops themselves and check the how-to guides and materials.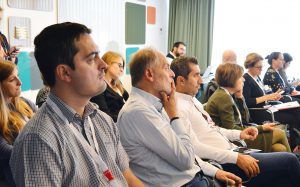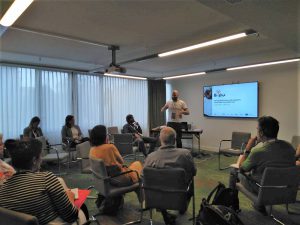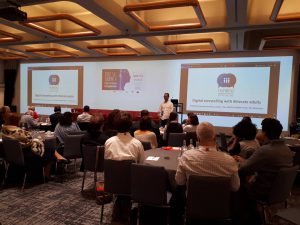 On the second day delegates were addressed in plenary by Director of the UNESCO Liaison Office in Brussels and UNESCO Representative to the European Institutions Paolo Fontani who tackled global citizenship education from a truly global perspective, and by Communications and Public Affairs Manager at Google Catherine Williams who raised the issue of young people's digital skills and introduced some of Google's resources and philanthropic initiatives.
During the following Panel Discussion "Global citizenship education and media literacy and the role of digital technologies in teaching it",panelists talked about education and lifelong learning and how to prepare (young) people to live and share their own perspective in a globalised society.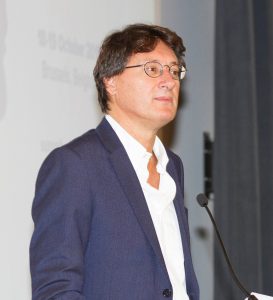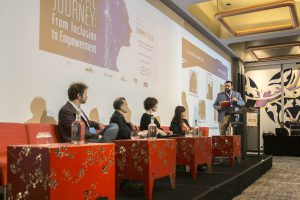 Finally, during the Project Lightning Talks we offered delegates the opportunity to learn about projects from members. This was not (only) about brilliant project results, but mainly about the learning that each presenter had gained from delivering their project.
During the whole duration of the event, participants had the opportunity to present their projects and initiatives at the marketplace.  Over 30 organisations showcased their activities in various ways – from brochures display and roll-up stands to video presentations, robots demonstrations and arcade game. During all the breaks, summit participants could discover new ideas, shared expertise and exchanged experiences.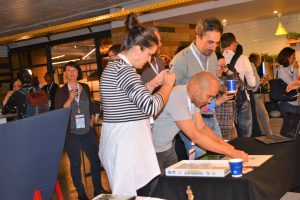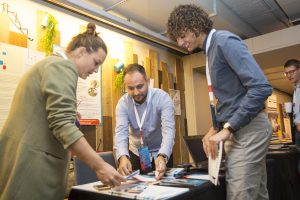 On the evening of 18 October, the ALL DIGITAL Awards 2018 Ceremony celebrated the finalists and winners of the annual contest run by ALL DIGITAL to recognize achievements of individuals and organisations supporting people on their digital journeys across Europe.  Meet the finalists and learn more about the ceremony
As delegates left for their real journeys home, they reflected  on all the ideas how to empower their own communities and better support individuals in their digital journeys. See in the video what our speakers think should be done and we invite you to share YOUR ideas on our community networking platform unite-it. 
To learn more:
Watch the Summit video: