21 Jun

Register for ALL DIGITAL Summit 2018!

21 Jun, 2018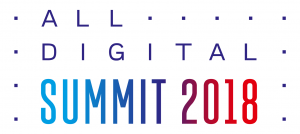 On 18-19 October 2018, ALL DIGITAL (formerly Telecentre-Europe) will organise its 11th annual summit under the title DIGITAL JOURNEY: FROM INCLUSION TO EMPOWERMENT. The event will be held in Brussels and co-hosted by our Belgian member MAKS vzw.
ALL DIGITAL Summit 2018 is co-organised by two projects: BRIGHTS "Boosting Global Citizenship Education using digital storytelling" and HURISTO: Human Rights Storytelling. The Summit will bring together ca. 200 leaders of networks and organisations working to enhance digital skills of all European citizens.
Our journeys to become engaged digital citizens, skilled workers, empowered educators or inspiring leaders are powered today by digital skills and tools. Our digital journeys start from inclusion, from realising that digital tools are for everyone, from feeling safe and comfortable with our own capacities, from being empowered by our own knowledge. Empowered citizens are digitally literate, lifelong learners, and proactive in the digital society, the society that we want to be inclusive and smart.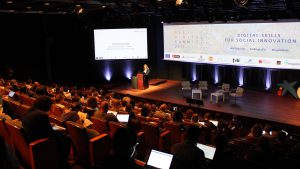 At ALL DIGITAL we believe that an inclusive society is where everybody can thrive, grow and be empowered, and in the Digital Age digital skills are a key vector to achieve this. And a smart inclusive society is more equal; more tolerant; more democratic; more critical; more active, and better prepared for the challenges of today and tomorrow.
The ALL DIGITAL Summit 2018 will propose and debate ideas and solutions that address the challenges of supporting citizens with their digital journeys in an ever-changing social and technology landscape. It will explore the significant role of digital skills to improve media literacy, global citizenship education, integration of migrants and refugees, human rights protection and awareness-raising, addressing societal issues in a smart and inclusive way.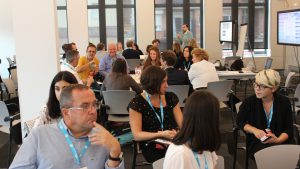 Participants will discuss the role of digital competence centres in teaching digital and civic competences, as well as 21st century skills, which include media literacy, critical thinking, team work, multicultural understanding and much more. The Summit will explore how digital competence centres can offer holistic approaches that combine those skills and act as experimentation labs for new learning and teaching methodologies and strategies.
The delegates will explore and share these new approaches in a variety of discussion groups, workshops, and plenary sessions. They will also have the opportunity to present their projects at the Project Lightning Talks session and at the Project marketplace. Learn more in the programme.
On the evening of 18 October, the Summit will host the Awards Ceremony celebrating the winners of the ALL DIGITAL Awards 2018 and ALL DIGITAL Week 2018 Best Event Contest.
Learn more and register for the Summit!
#DigitalSkills #AllDigitalEU
(photos from Summit 2017)