22 Apr

ALL DIGITAL at Educate to Create Conference

22 Apr, 2018

Educate to create is the flagship conference of the Bulgarian Presidency of the EU in education and digital skills. It took place in Sofia on 19-20th April and gathered 200+ teachers, trainers, advocates, policy-makers, students, companies and consultants from Bulgaria and the EU.

Speakers and participants agreed that young people might be intensive consumers of ICT but that does not mean they are ICT savvy or media wise. It is the role of education, formal, non-formal and lifelong, to equip them for the opportunities and challenges of the digital transformation.

ALL DIGITAL was represented in a number of sessions and panels during this two-day event, rich in discussions around how to enable Europeans to become digital creators and the role of education in making that happen.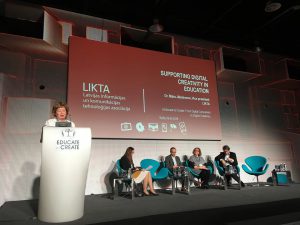 Mara Jakobsone, Chair of our Board, and Adam Micklethwaite from our UK member The Good Things Foundation took part in the panel discussion on "Digital inclusion – digital creativity skills and competences for all learners". Mara presented the Latvian experience in making sure that learners from rural areas have equal chances to digital skills and opportunities. "In Latvia we prioritize rural communities and schools. If we have limited resources, we don't concentrate them in the capital. Even in rural areas of a couple of hundred inhabitants, we involve everyone in our projects – teachers, facilitators, school leaders and parents," she said.
Adam highlighted that helping adults to be digitally included has an impact on young people's inclusion as well – growing up in a digitally excluded household means less possibilities to benefit from digitalization.
Our Board member Achilles Kameas took part in the parallel session on "STE(A)M – how to attract more students to tech studies and jobs".
Two other ALL DIGITAL members, Karolina Cikowska, Founder, Girls Code Fun Foundation and Veronqiue de Leener, Director of MAKS vzw (also Vice-Chair of our Board) presented their inspiring non-formal training activities and projects aimed at teaching digital skills to kids, young people and adults alike during another parallel session on "The role of non-formal education and training in digital creativity", moderated by our Policy Officer, Gabriela Ruseva.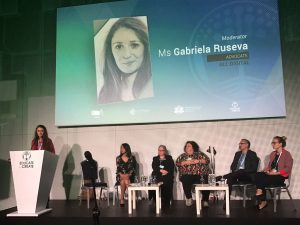 The session was dedicated to the many exciting and ground-breaking activities in digital creation which are being driven by the non-formal sector (NGOs, grassroots, community centers, fab labs, libraries, etc.). Many of these activities take place outside school hours. Both for learners and educators, they are a space for experimentation, learning-by-doing, peer-learning. For some learners, this is their only experience of digital creativity. Participants looked at digital creativity from a broader perspective. Not only as digital art or bringing ideas to life through digital means, but rather as empowering everyone with the skills needed to create with digital tools according to their needs – anything from a photo through blogs and discussions to games, programmes, apps.
Panelists gave many interesting insights on how non-formal learning can support formal learning and vice-versa and how can the opportunities of non-formal learning be scaled to reach more learners. Research shared by prof Jackie Marsh unveiled that participation in non-formal digital making activities is more successful in attracting young kids to IT because it is play-focused and open-task learning. Teachers were also found to be very positive towards such experiences, because they are stripped of the usual confines of formal education – they can experiment with their students, learn new things themselves and it's ok if they don't know all the answers.
All panelists pleaded for:
more communication between formal and non-formal learning
looking at the process and principles, for the "what works" of successful non-formal initiatives
more resources so that organisations on the field can scale and document better their work in projects.
The conference concluded with the Sofia call for action, which contains important political messages. We are happy to see that our comments have been reflected and the final version of the call, which was subject to consultation with stakeholders, contains references to non-formal education and lifelong learning, which plays a huge role when it comes to digital skills.