06 Dec

'Coding for Inclusion' partners meeting in Berlin

06 Dec, 2018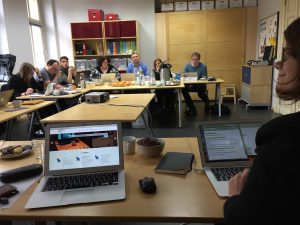 Partners of the Erasmus + KA3 project Coding for Inclusion (#CondincEU) met in Berlin on 19-20 November for the third partners' meeting.
The project scales up the Capital Digital methodology developed by project partner and ALL DIGITAL member Maks. Young people of high school age from disadvantaged backgrounds are trained in coding and STEM education in a fun and playful way focused on computational thinking. Those young people then go on to train and facilitate training for their young peers who are in elementary schools of similar backgrounds. The CODINC project takes this methodology and scale it up into schools in 5 countries.
The meeting in Berlin was hosted by project partner and ALL DIGITAL member 21st Century Competence Centre (21CCC). Partners were given a welcome in Berlin and an introduction to the house, which is an association hosting many organisations working in the field of youth and social work.  The meeting also included a visit to the nearby computer game museum. It allowed partners to learn about the history of computer games, which tagged on the themes of teaching coding and programming in a playful way.
The meeting took place at a critical time when project partners are about to start piloting the programme. The methodology and toolkit are ready;  the trainers have been trained; so the process of the piloting was the focus of the discussion.  Partners are expected to begin the piloting phase in December, and the pilots will end by April. In total at least 25 high school students, 240 elementary school pupils, and 80 teachers will be trained in the piloting phase.