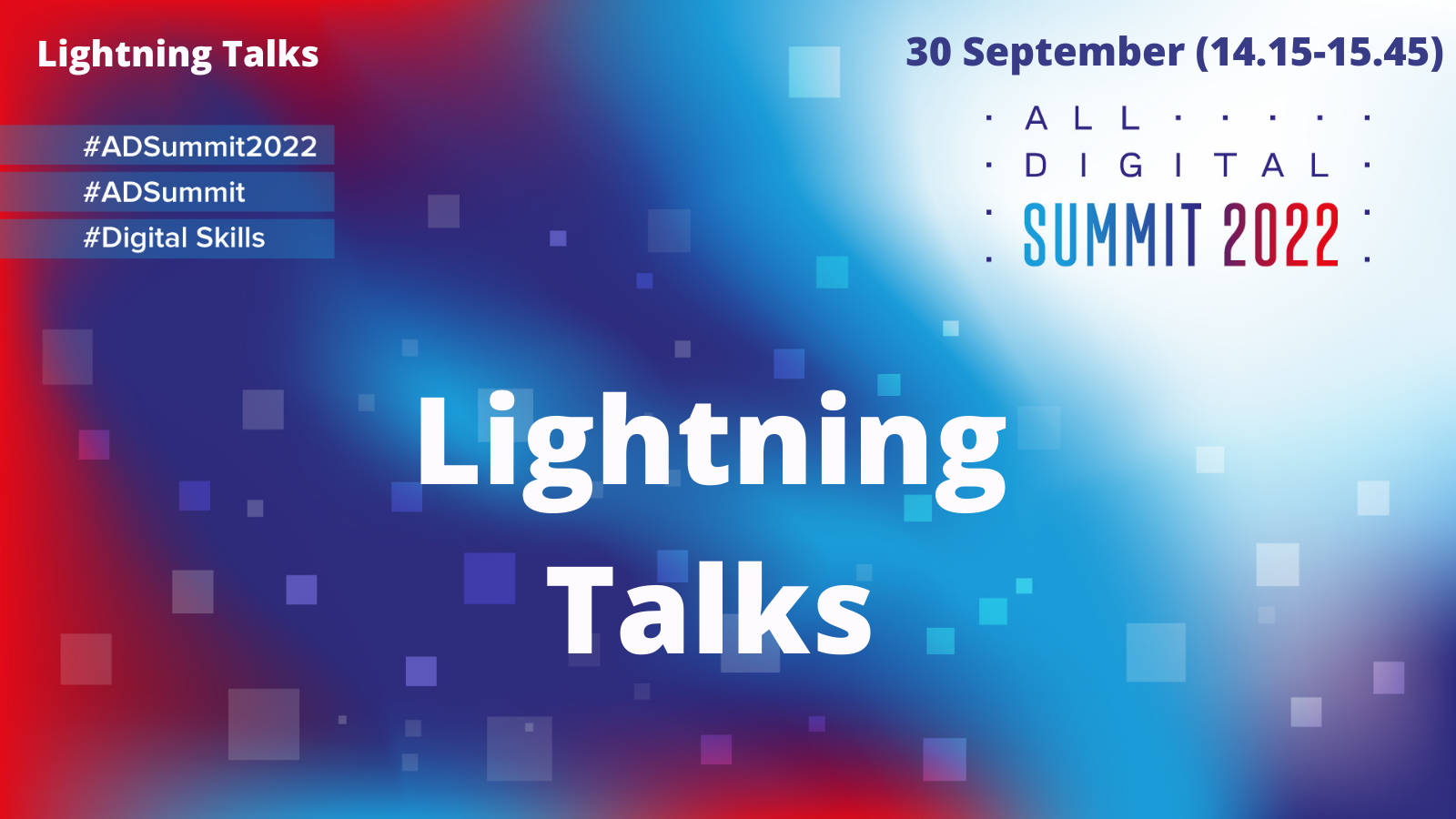 25 Sep

ALL DIGITAL Summit: Lightning Talks. Flashes on insightful projects and initiatives!

25 Sep, 2022

Lightning talks represent an opportunity to hear about interesting activities, initiatives, and projects related to digital education in Europe. The presenters are ALL DIGITAL member organizations, as well as other organizations from formal and non-formal education settings.
Lightning talks will be one of the activities taking place during the Networking session, on the 29th and 30th of September. To have an overview of the organizations and topics involved, have a look at the agenda below.
AGENDA
DAY 1/ THURSDAY 29TH SEPTEMBER (17.15-17.50)
17.15 – Elisabetta Mei, Project Manager, EGInA (ALL DIGITAL member), Italy
Fit4DigiLine – The Fit 4 Digital Linguistic Education project aims to create a European knowledge base of digital competence for language educators and provide the European adult educational landscape with a newly developed online assessment tool.
Fit4Digital Linguistic Education presentation
17.20 – Miomir Rajcevic, President, Media Education Centre (ALL DIGITAL member), Serbia
Media Education Center Digital – Fairer, more peaceful, and more just. – Digital advances can support and accelerate the achievement of each of the 17 Sustainable Development Goals – from ending extreme poverty to reducing maternal and infant mortality, promoting sustainable farming and decent work, and achieving media, digital, health, and universal literacy. But digital technologies can also threaten privacy, erode security, and fuel inequality. They have implications for human rights and human agency. Like generations before, we must create strong partnerships – governments, businesses, civil society, and individuals – to have a choice to make in how we harness and manage new technologies. Act now and be part of the change!
Digital – Fair, more peaceful, and juster presentation
17.25 – Vita Vītola-Lapiņa, LIKTA (ALL DIGITAL member), Latvia
Women4IT – Women4IT addresses the structural transformation of the labor market due to the growing digital society in which there are significantly less women than men. The project aims to empower young women across Europe to become part of the digital economy. Project partners have worked to equip women with a set of in-demand digital competencies and employability guidance.
17.30 – Fulvio Ananasso, President, Stati Generali dell'Innovazione (ALL DIGITAL member), Italy
SGI mission, skills & project cooperation – Organization, initiatives, and relevant projects of Stati Generali dell'Innovazione (SGI).
Stati Generali dell'Innovazione (SGI) presentation
17.35 – Lucie Kamler, Project Manager, EPMA (ALL DIGITAL member), Czech Republic
MyHooD – The project creates the methodology to engage young people in creating a sustainable and greener city, specific content concerning climate change education, and the interactive online tool enabling them to participate and research public spaces.
17.40 – Konstantinos Potsis, Project Manager, DAISSy research group, HoU (ALL DIGITAL member), Greece
Project RE-START – Reinforcing the circular economy model for START-ups aims to equip young people with the knowledge they require to develop and refine their circular business creation strategy. The project provides participants with a broad knowledge and understanding of the Circular Economy (CE), the need for innovation, and the responsibility of their potential business in regard to sustainable development. RE-START provides aspiring start-uppers a practical toolkit for assessing both the circularity and the attractiveness of their business idea, as well as training in business strategy and circularity principles, in order to be able to design a comprehensive circular business plan and kickstart a circular start-up or a spin-off.
17.45 – Spaska Tarandova, Executive Director, Global Libraries Bulgaria Foundation (ALL DIGITAL member), Bulgaria
Teach for Future – Educational Transformation of Adults through Innovation, Technology, and Entrepreneurship. Program Erasmus+. Educational intervention dedicated to adults- skills training in the fields of IT, Management of Innovation & Network Collaboration, and Entrepreneurship & Leadership.
Teach for Future project presentation
DAY 2/ FRIDAY 30TH SEPTEMBER (14.15-15.15)
14.15 – Marta Piechocka, Project Manager, FRSI (ALL DIGITAL Board/Staff member), Poland
Kompetencje 3.0 ( Skills 3.0) – is a project dedicated to organizations that want to teach basic digital skills within communities. We empower the organizations with trainings, resource base, and tools (simple Learn My Way online course on very basic digital subjects like using the Internet, video calling, public services, and social media). We aim to develop a nationwide network of organizations working with digitally excluded people and our model of digital inclusion. The project is organized by the Good Things Foundation and is also implemented by Romania (EOS Foundation).
Kompetencije 3.0. project presentation
14.20 – Stefano Tirati, CEO, Learning Digital (ALL DIGITAL member), Italy
MICROCREDENTIALS – Challenges and opportunities of (white-label) web platform issuing micro-credentials to certify assessed learning or competencies as NFTs. Let's exchange views on methodological approaches, pedagogical implications, technical issues, legal frameworks, common standards and data sets, and privacy issues.
14.25 – Davy Nijs, University project officer, Mediawijs (ALL DIGITAL member), Belgium
Iedereen Digitaal – "With 'Everyone Digital', Mediawijs wants to accelerate the development and rollout of a supra-local digital inclusion policy within sectors, organizations, and facilities that work with vulnerable youth, people with disabilities, or seniors in Flanders.
Iedereen Digitaal – "With Everyone Digital" presentation
14.30 – Mohammed Oubella, Computer science teacher, LMU – Le Mans University (ALL DIGITAL member), France
How digital skills are taught in the French education system? – The teaching of digital skills in the French national education system and the use of the Pix platform for assessment and certification (example of LMU)
14.35  – Dafne Sgarra, Project Manager, ALDA, Italy
Digital Governance – ALDA is one of the beneficiaries of the operating grant of the "Europe for Citizens" program since 2022. (OG) of the Citizens, Equality, Rights and Values Programme (CERV) of the EU, which aims to support the implementation of program objectives for the promotion of democracy and citizens' participation. Within our OG, we are developing different moments of training, networking, dissemination, and mutual exchange, and one key topic we want to raise awareness about is Digital Governance. This is why we have thought that your event would really be interesting for us to participate as a speaker/active part, to highlight the importance of digital tools for active participation in democracy and share some good practices if it is possible for you."
ALDA's work for digital citizenship presentation
14.40 – Katerina Moreira, Project manager, EPMA (ALL DIGITAL member), with Bart Temme, CEO of Street Art Cities – Czech Republic
Art for social inclusion – Can street art change our perception of the world? And can digital transformation play a part? EPMA would like to introduce one of the new directions the organization has taken in the past two years by showing the results from successful projects and raising the challenge of what can be done next.
Street Art Cities project presentation
14.45 – Zagorka Prce Veseli, Coordinator of Developmental Programs, Centar tehničke kulture Rijeka – CTK Rijeka (ALL DIGITAL Board/Staff member), Croatia
Mind over matter – A card game for raising the interest of young people in STEM using STEAM methodology is developed. Its impact on increasing the interest in STEM will be validated by 15.10.2022. on 500 young people across Europe.
Mind over matter project presentation
14.50 – Monica Divitini, Professor, Excited-NTNU (ALL DIGITAL member), Norway
DIGIVID – The DIGIVID Erasmus+ Project is aiming at supporting teachers in developing digital skills to improve their (inclusive) online teaching. The DIGIVID curriculum is accessed through DIGIVIDget – a micro-learning widget that visualizes the content of the DIGIVID Curriculum along with learning goals.
14.55 – Clarissa Holzner, Funding & Tenders, iRights.Lab (ALL DIGITAL member), Germany
CTAI – The Center for Trustworthy Artificial Intelligence (resp. ZVKI) is a forum for debate in Germany that discusses how algorithmic systems and AI can be designed for the benefit of society. How can human-centered designed be ensured while strengthening trust in such technologies. As a non-partisan national organization linking the business, industry, political and civil society communities, we inform the public about consumer-relevant issues in artificial intelligence, foster public debate and develop a certification scheme for trustworthy AI.
Digital Collective Memory is a platform for experts in digital culture of remembrance from Central and Eastern Europe to network and exchange ideas. There are various forms of digital remembrance culture in Europe and at times fragmented. Increasing content of historical-political education is created in the digital space. The project aims to structure the discourses and build a network for the culture of remembrance 4.0 in Germany and Eastern Europe by bringing stakeholders together, activate, and support smaller and larger digital initiatives.
iRights.Lab project presentation
15.00 – Guillem Porres, Project Manager, Fundación Esplai (ALL DIGITAL), Spain
Conecta_IA – Fundación Esplai & Microsoft launched in 2020 a unique social program to promote Artificial Intelligence and Digital Literacy. The main goal is to reach 6,300 people annually under the age of 35 through training opportunities, certification, and specialization in digital skills oriented towards employment.
Conecta_IA – Fundación Esplai & Microsoft program presentation
15.05 – Hector Martínez, Fundacio Bofill (ALL DIGITAL Board/Staff member), Spanish
Evaluación 4.0 (4.0 evaluation) – the project is going to test an AI algorithm to improve the peer evaluation process, with real students and Catalan teachers. Peer evaluation using artificial intelligence gives responses to the current needs and future challenges of education through the use of 4.0 technologies incorporating artificial intelligence through algorithms in the processes of learning, more specifically in peer assessment. It aims to reduce inequalities in education by incorporating 4.0 technologies, contributing to efficiency and agility in more administrative and automatable processes such as evaluation to promote personalized education to the needs of each student, making a better follow-up, and promoting equity.
Evaluación 4.0 project presentation
15.10 – Veronique De Leener, Director, Maks vzw (ALL DIGITAL Board/Staff member), Belgium
Digital minimalism for young adults – Youngsters are completely linked to smartphones. Sometimes there is an addiction. In this project, we try to make them aware of the relationship with the smartphone and introduce levels of digital minimalism. When is the use of your smartphone an added value and when is it better to put it away?