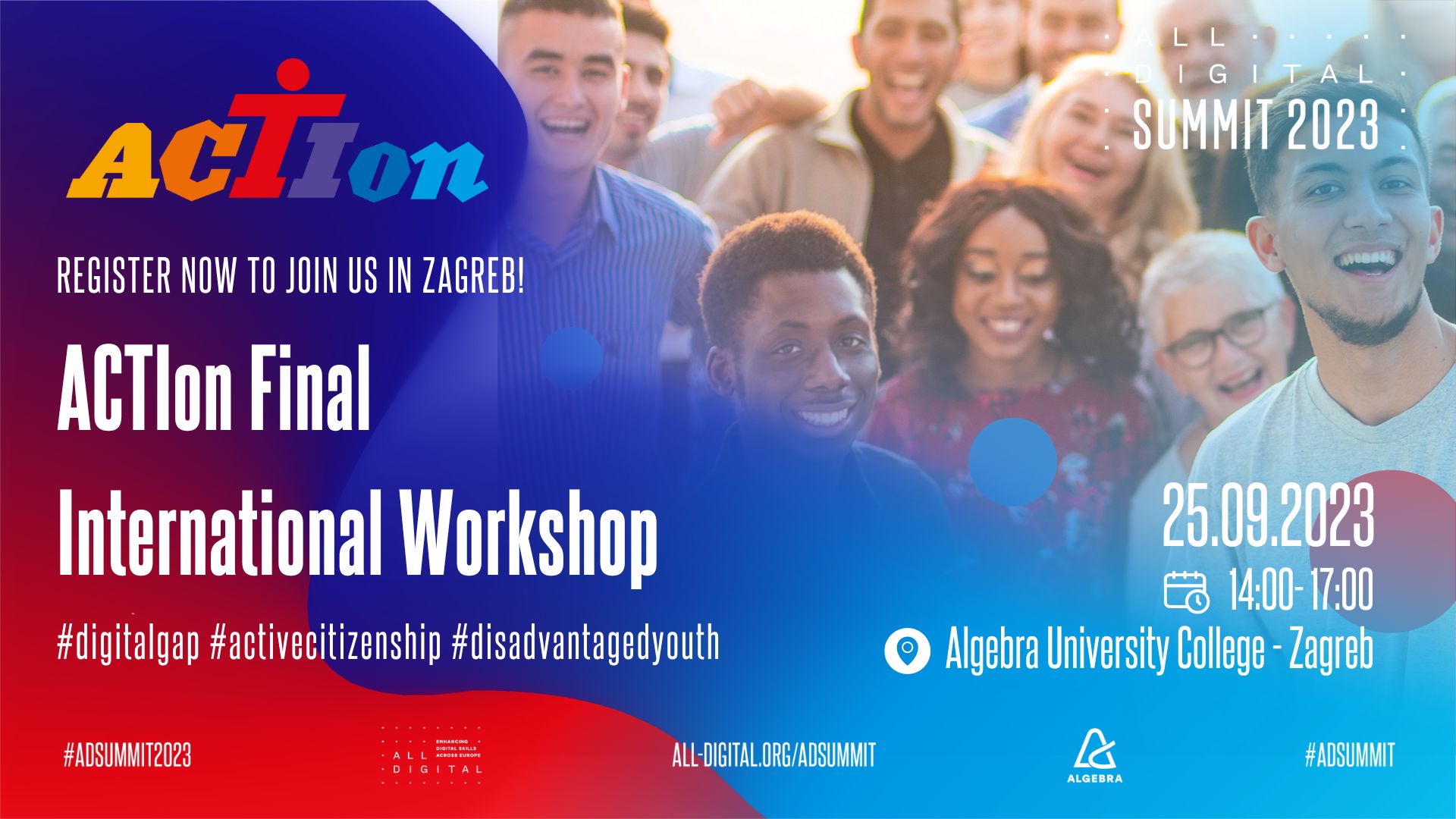 28 Aug

ACTIon Final International Workshop: Promoting digital skills for active citizenship and online youth participation

28 Aug, 2023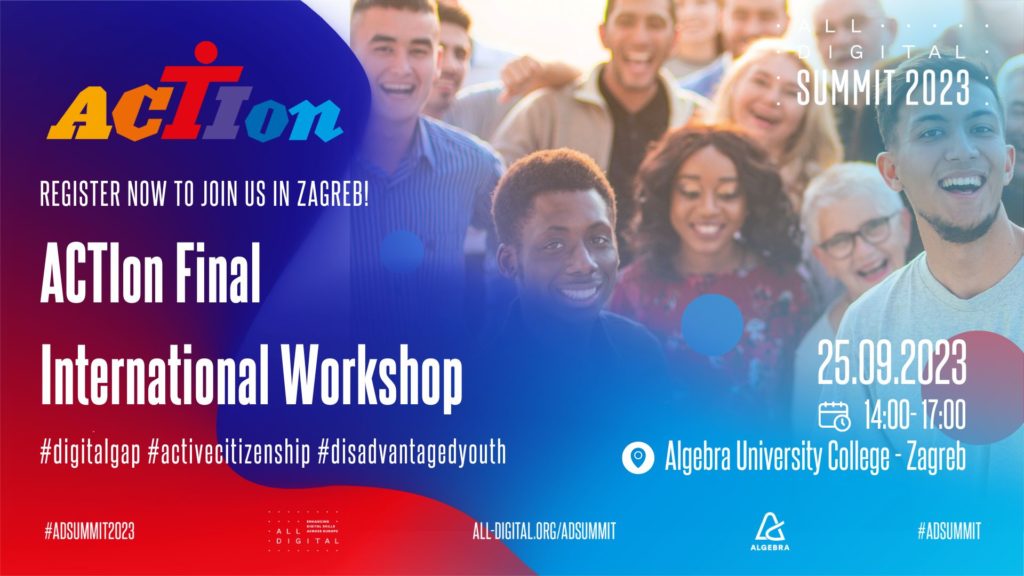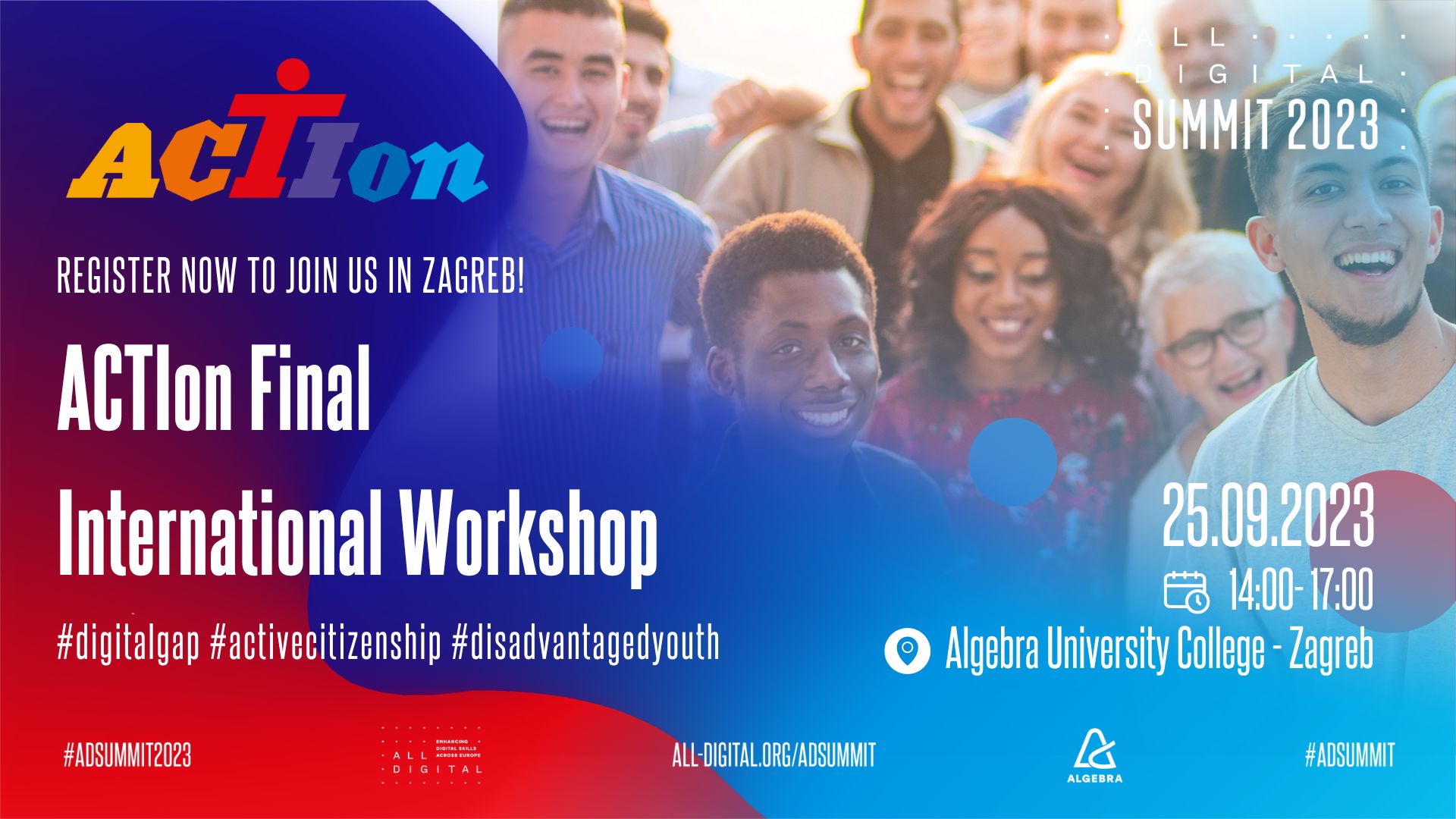 Background
Being online is a way of living for young Europeans: According to Eurostat, a large majority of young people in the EU make daily use of the internet, but only a quarter use the full potential of digital technologies to exercise their civic rights, to access health and education services, and for political participation. There is a clear gap in the way young people use digital technologies, and this gap is even wider when it comes to disadvantaged youth.
ACTIon – Promoting active citizenship through civic education and active online participation of youth role models is an Erasmus+ KA3 Social inclusion project that started at the beginning of 2021 to fill this gap.
The three-year project aims to train young people from socially disadvantaged areas, as well as minority and refugee groups, to support their integration into mainstream society by enhancing access to health, education, online participation, the labour market and civic engagement.
The ACTIon Final International Workshop to take place on 25 September during the first day of the ALL DIGITAL Summit at the Algebra University College invites participants who are curious to learn and have hands-on experience on alternative training programmes and tools to equip adolescents and young people (14-25 years old) with digital competencies for active citizenship and online participation.
This workshop will be mostly interesting for:
practitioners in formal education environments, e.g. teachers, instructors
trainers and youth workers offering non-formal training to young people
other professionals/academicians/students who are working on or wishing to play a role in empowering young people with digital/social skills and civic education
those interested in social inclusion – as the project has a specific focus on disadvantaged youth
young people who want to reflect on digital skills for active citizenship and online participation
Programme
During the first part of the workshop, participants will hear about two training programmes and the outcomes of their piloting activities:
Digital Participation and Active Citizenship (DigiPAC) for formal education of children and adolescents, 14-18 years old
How to establish a positive, meaningful and respectful interaction online (netiquette)
Having a good understanding of inclusion, respect and tolerance
Learning how to take action against hate speech, discrimination and cyberbullying
Learning about the ways of self-expression, storytelling, electioneering (defending one's opinions)
Using online participation tools
Model for Opinion Leaders Activation (MOLA) for community-based education of young adults, up to 25 years old
Safe and efficient browsing on internet
Searching for health information
Identifying fake news and disinformation
Differentiating between fact/opinion
Understanding how to be a positive opinion leader/online influencer
Being aware of one's digital identity: "Think before you post!"
Training materials are available to download here.
In the second part, the World Café will offer the following hands-on experience to the participants:
Using the FIRE app to get skills for turning an idea to reality (how to organize a community, plan and implement changes and communicate about your work/cause/project results)
Working together to get an understanding of netiquette and electioneering, as well as learning how to use the OPIN platform for online participation
Brainstorming on policy recommendations to improve digital participation and active citizenship for young people at local, national and European level
Registration
Interested in joining us? Please register to the ALL DIGITAL Summit here and select the ACTIon workshop on the first day of the programme.
PROGRAMME
ACTIon Final International Workshop
25 September 2023, 14:00-17:00
Nikola Tesla room, Algebra University Campus, Zagreb, Croatia  
14.00 – 14.10

OPENING AND WELCOME

Selin Tagmat, ALL DIGITAL

14.10 – 14.30

PROJECT PRESENTATION

ACTIon project: Background, methodology, training programmes

Tzvetina Arsova Netzelmann, nexus 

14.30 – 15.15

PANEL DISCUSSION

ACTIon reaches out: Piloting highlights and learnings

Panelists:

Tzvetina Arsova Netzelmann, nexus 

Savka Savova, HESED

Pepa Peneva Veleva, OSF

Mariche Treneska, SEGA

Kostas Diamantis Balaskas, Action Synergy

Moderator: Selin Tagmat, ALL DIGITAL

15.15 – 15.25
Introduction to World Café by nexus
15.25 – 15.45
Coffee break
15.45 – 16.45

WORLD CAFÉ 

🔸 Workshop 1

MOLA and youth community's activation potential:

Set me on F.I.R.E.

Discover the F.I.R.E. app – From Idea to Reality & Execution:evaluate your knowledge in digital literacy, improve your competences and turn your ideas into reality!

Facilitated by ACTIon partners:

Pepa Peneva Veleva, OSF

Savka Savova, HESED

🔸 Workshop 2

Come and share our Netiquette: DigiPAC and digital citizenship

Dive into the world of DigiPAC to get familiar with its interactive methods and digital tools: Netiquette (Module A), Electioneering (Module B) and Online participation (Module C), and become a DigiPAC ambassador!

Facilitated by ACTIon partners:

Tzvetina Arsova Netzelmann, nexus 

Katja Aue, nexus 

Vesna Konevska Stojanoska, SEGA

Mariche Treneska, SEGA

🔸 Workshop 3

Bring it to the next level: ACTIon policy recommendations

Let's get together to develop proposals for policy makers to improve digital participation and active citizenship for young people at local, national and European level!

Facilitated by ACTIon partner:

Kostas Diamantis Balaskas, Action Synergy

16.45 – 17.00

CLOSING

An exchange of experiences and results by the workshop facilitators and participants

Workshop facilitators and ALL DIGITAL