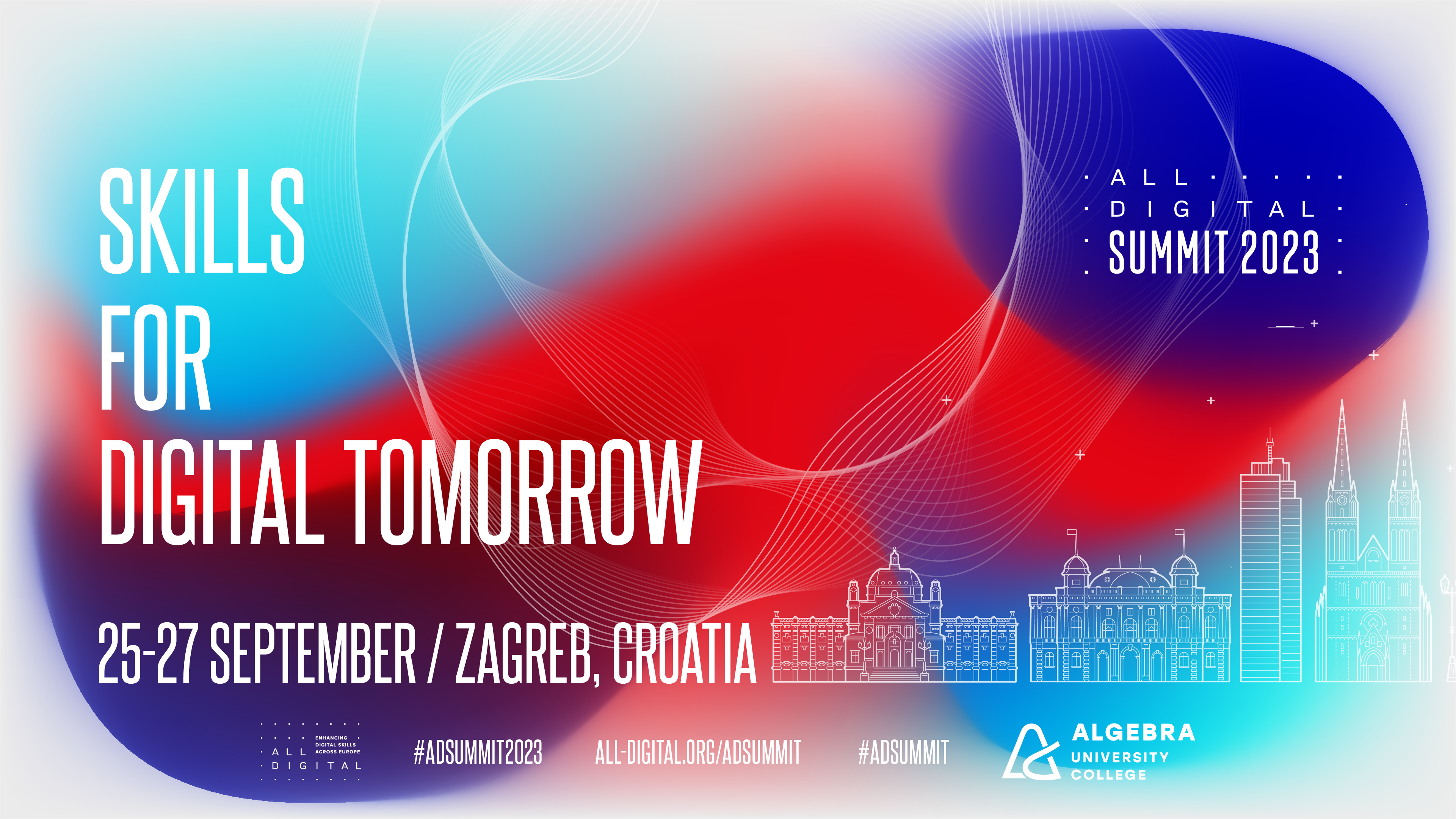 26 Jun

ADA EDUCATION workshop – ALL DIGITAL SUMMIT 2023

26 Jun, 2023

Updated on August 28, 2023

Sessions with teachers and trainers on: Using DigComp to design learning activities on digital content generation with AI tools at foundation, intermediate, and advanced level

Timing
Session 1 – Basic competence                           26/09           11:50 – 13:20
Session 2 – Intermediate competence            26/09           15:00 – 16:30
Session 3 – Advanced competence                  27/09           11:50 – 13:20
Presentation of the ADA Workshop
This workshop promoted under the aegis of the ALL DIGITAL Academy (ADA) offers participants two intertwined opportunities:
to learn how the DigComp framework can support the design of educational activities about the use of AI tools at different proficiency levels and for different target groups. In particular, inspiration for the definition of learning outcomes (LOs) on AI-related and other digital competences will be drawn from the over 250 examples of knowledge, skills, and attitudes of the DigComp 2.2 report;

to explore the use of generative AI tools (in particular ChatGPT) for research, content creation, and lesson-planning purposes.
The workshop's three sessions will propose information, reflections and activities according to a progression along the three DigComp macro proficiency levels as follows:
at the

foundation

level, the aim is to develop basic

knowledge, skills, and attitudes to interact with a generative AI tool such as ChatGPT

. The focus of Session 1 will be on

designing and refining prompts to research a concrete topic

(the pros and cons of using generative AI in education) and to summarize the findings. Attention will be paid to how to perform such relatively

simple tasks

in a

confident, critical, and responsible way

and to

provide guidance to learners

when needed, in a way that supports them to become more

independent user

s of such tools;

at the

intermediate

level, learners should manage

well-defined routine tasks

when

interacting with generative AI tools for content creation

, and be able to

solve straightforward problems independently

and use generative AI tools

according to their own needs

.

The focus of Session 2 will be on

using ChatGPT to create and refine educational materials

(such as informative leaflets, a presentation, a guide, etc.) on the use of generative AI in education based on the results of Step 1;

at the

advanced

level, learners should

apply their new skills to more complex non-routine tasks,

and

independently choose the most appropriate tools

for the given task. Advanced level competence also includes

guiding or tutoring other learners

. For this reason, the aim of Session 3 will be to

design lesson plans

for different target groups (on topics to be chosen by the participants) using ChatGPT to articulate objectives, LOs, and activities.
After the general introduction to the workshop given in Session 1 (participants are expected to attend all three sessions, so this will not be repeated), each session will be divided into three parts:
Initial plenary

(20 min.) – Presentation of inspirational usages of generative AI tools with reflections on how they may contribute to the development of DigComp competences, by referring to AI-related and other knowledge, skills, and attitudes examples from DigComp 2.2.

Working group activity

(50 min.) – Activation of small WGs (max 8 people each) with the mutual presentation of participants and execution of the assigned tasks using the tools made available to each WG and participants' own devices.

Sharing activity (20 min.) – Presentation and discussion in the plenary of the results of each WG.
How to join the Workshop
This ADA Workshop requires interested participants to reply to a Call for expression of interest because most of the activities will be carried out in small groups (8 participants), each facilitated by an ALL DIGITAL guide (5 of them), for a maximum of about 40 participants in total. Besides, participants will have to register to the Summit to attend in person here.
To allow ALL DIGITAL to optimize the organisation and management of the working groups, please fill-out this form.
The working groups' guides will be:
Riina Vuorikari

Sandra Troia

Nicola Bruno

Stefano Kluzer
Information available here
Sessions with teachers and trainers on:
Using DigComp to design learning activities on digital content generation with AI tools at foundation, intermediate, and advanced level
Timing
Session 1 – Basic competence                               26/09           11:50 – 13:20
Session 2 – Intermediate competence                  26/09           15:00 – 16:30
Session 3 – Advanced competence            27/09           11:50 – 13:20