03 Oct

Volunteers to train deaf users in Russia

03 Oct, 2012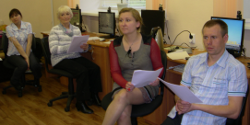 At the Archangelsk Tvoy Kurs Center (Russia), volunteer trainers with good knowledge of sign language, are trained to become facilitators of Digital Literacy courses for people with hearing impairments. The training is part of  "Accessible Environment" project implemented by  the All-Russian Society for Deaf People.
Most deaf people that reside in the towns of the Russian Arkhangelsk region don't have computer or Internet skills, while it could give them not only a better access to information but also an opportunity for distance interaction. The program also provides deaf people with new communication opportunities, using modern information and video communications centers as mediators between them and people with regular hearing.
» Read more at our community site
» Read the story of one of the beneficiaries at our community site