17 Jan

Third Age University in Macedonia

17 Jan, 2013
In Macedonia, senior citizens are engaged through the Third Age University, an organization that relies on volunteers, filled with cooperation, friendship, learning & exchange of experiences.
The Third Age University of Skopje was established in 1999 and is a civil organization for active participation in the society of its members, persons in the third age. It offers lifelong learning activities in the field of education, culture, business and entertainment.
The organization is working exclusively on a voluntary basis and relies on the efforts of its members to create an environment filled with cooperation, friendship, learning and exchange of experiences with people interested in lifelong learning, willing to create opportunities for an active and dignified life in the third age.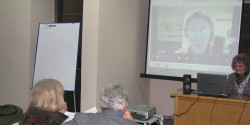 On January 11th 2013, TE's member Open the Windows participated in one of the regular educational meetings that are held every Friday at the Faculty of Philosophy.
They held a lecture about Social Media and introduced the attendees to Skype and Facebook.