04 May

Telecentre-Europe presents Skillage at Innovate4Good forum

04 May, 2012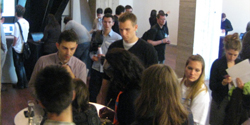 Telecentre-Europe presented the youth self-assessment tool Skillage amid 150 astounding young people from around Europe, gathered in Brussels on May 2-3 by Innovate4Good, an event organized by Microsoft.
The Innovate4Good@Microsoft forum is one way that Microsoft is working to inspire youth to imagine the opportunities ahead by fostering in-person and online communities where they can share ideas, resources, and connections for career advancement. An impressive 165 ideas tackling some of the most threatening issues of today's society have been generated throughout the event that inspired 15 initiatives developed and presented in the second day.