24 Sep

Socially savvy geeks entail great benefit for the social sector

24 Sep, 2012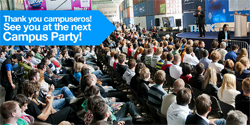 In his recent post at the Stanford Social Innovation Review, Daniel Ben-Horin, co-CEO at TechSoup Global, looks back at his experience at Campus Party Europe (Berlin, August 2012) where he met with several young developers from what he calls "a  generational cohort" who all believe in the transformative power of technology and represent a huge potential resource for social sector benefit.
According to Daniel Ben-Horin, there is a major opportunity cost if the social sector doesn't figure out how to engage these folks. In his effort to understand the young geek zeitgeist, he presents a nuanced view of the different tribes of today's generational cohort of geeks/hackers/developers, and what drives them.