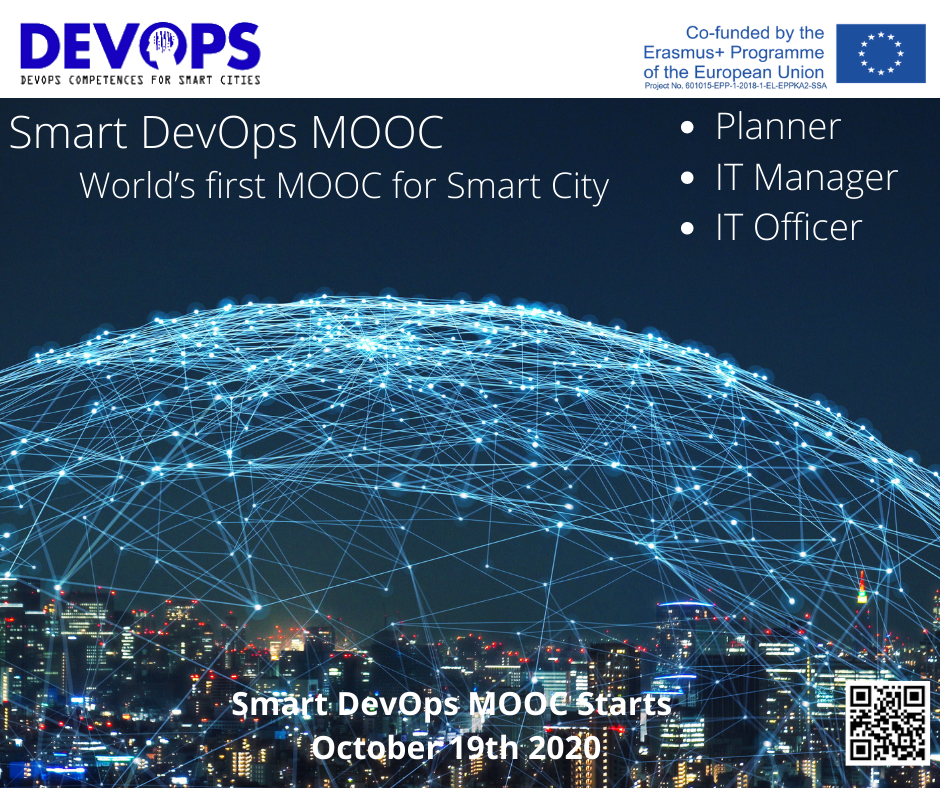 12 Oct

SmartDevOps MOOC for Smart City Professionals Starts on 19 October

12 Oct, 2020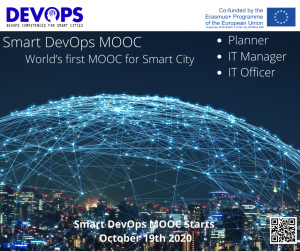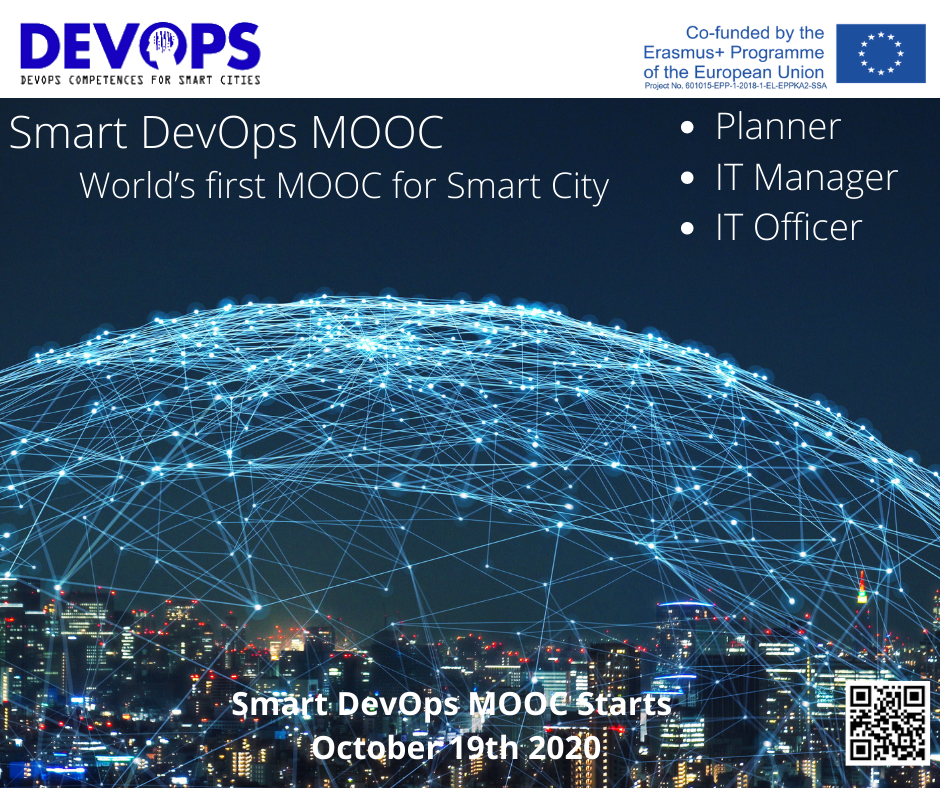 ALL DIGITAL is a partner in a Sector Skills Alliance KA2 project DevOps competences for Smart Cities. The project aims to close the gap between today's and future's skills demands of the municipal workforce by emphasizing on the exploitation of emerging employment paradigms such as DevOps.
Project partners developed three job profiles for Smart Cities DevOps professionals (Smart City Planner, ΙΤ Manager and IT Officer) and The DevOps Competences for Smart Cities MOOC (Smart DevOps MOOC) to enable participants to develop and acquire essential competencies needed to tackle the challenges of managing and evolving of smart cities.
The Smart DevOps MOOC at a glance:
Duration: 19 October 2020 – 18 January 2021
Estimated effort: 5-10 hours per week (approx. 80 hours in total)
Level: Beginner
Prerequisites: No prior DevOps expertise is necessary
Language: English
Cost: Free
Completion: Participants successfully complete a module if they have a grade of 60% or higher. Participants who complete all modules will be awarded a Certification of Completion and will qualify for a second round of specialised training (for developed job profiles). The participation in the specialised training is also free of charge.
The Smart DevOps MOOC offers:
State-of-the-art curricula developed and delivered by experts under high standards of quality assurance
15 modules delivering transferrable and digital skills for Smart City professionals
A flexible weekly workload and schedule
Personalised support provided by experienced lecturers
Opportunity to meet, connect and network with peers from all over Europe
Certification in accordance with the European and national qualification frameworks and the European credit system for vocational education
Opportunity for participants who will successfully complete the MOOC to enlist in specialised training for Smart City Planner, Smart City ΙΤ Manager and Smart City IT Officer
Check the week by week schedule and meet the trainers who will support MOOC participants on the project's website. All the information about the MOOC are always available in a special brochure.
REGISTER for the Smart DevOps MOOC and help us spread the word!