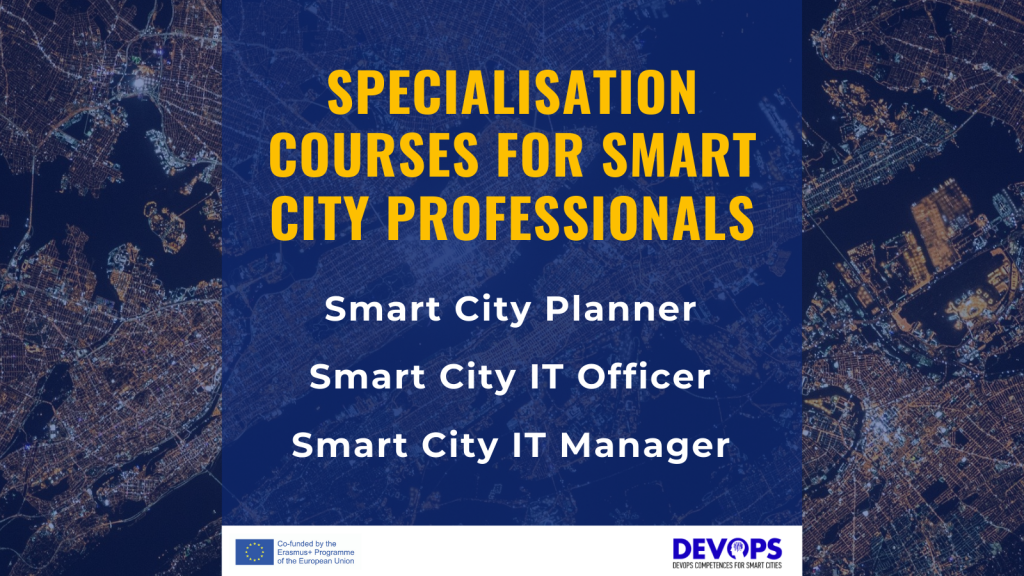 22 Feb

Smart-DevOps Specialisation Courses for Smart City Professionals under way

22 Feb, 2021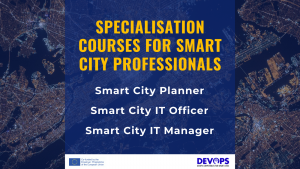 Following the successful implementation of the DevOps Competences for Smart Cities MOOC in January, Smart DevOps project partners propelled towards the next big task, conducting specialisation courses for three Smart Cities job profiles: Smart City Planner, Cmart City IT Manager, Smart City IT Officer.
The profiles have been identified in the first year of the Smart-DevOps project, following extensive research that included a literature review, analysis of survey data, focus groups and interviews (summary of the research process is available here), which enabled the Smart-DevOps consortium to identify key transversal and technical (digital) competences needed by Smart City (SC) administrators.
The research also identified competence gaps and significant training demand for these competences. As a result of this research, three new professions were identified: Smart City Planner, Smart City IT Manager, (3) Smart City IT Officer. See Introduction Smart Cities Job Profiles for detailed information about the job profiles, identified competences and competency sets for each of the profiles.
Smart-DevOps MOOC presents the first step in developing and acquiring essential competencies needed to tackle the challenges of managing and evolving smart cities, especially when considering no prior DevOps expertise was required to enrol in the course. From this perspective, three specialisation courses present the next step. Project partners developed a curriculum in line with ECVET and EQF requirements that enables comparability and validation of learning outcomes on the one hand and enhance upskilling and mobility of the individuals completing the courses on the other.
All three courses follow the same structure and are comprised of blended learning based on flipped classroom approach and individual self-paced study supported by regular contact sessions with mentors and work-based learning in municipal structures that provides hands-on learning and experience to participants. Specialisation courses differ on the selection of transversal and technical (digital) competences assigned to the profile which also influences the total length of the course (27 – 33 weeks). Learn more about the SC Planner, SC IT Manager and SC IT Officer specialisation courses on the Smart DevOps project website.
The courses started on 22 February and are being implemented in Cyprus, Germany, Greece, and Italy. Similarly to Smart-DevOps MOOC, where we saw a big interest among target groups (municipal and city professionals, IT professionals and students) with more than 1000 participants from 50+ countries registered for the MOOC, interest for the specialisation courses exceeded consortium expectations as well – more than 270 people applied to participate.
You are invited to follow the Smart DevOps project on Facebook and Twitter.