23 Mar

Say YES to STEM!

23 Mar, 2018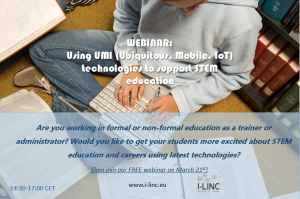 As a part of the ALL DIGITAL Week and in preparation for the STEM Discovery Week 2018, – the UMI-Sci-Ed project organized a webinar titled: Using UMI (Ubiquitous, Mobile, IoT) technologies to support STEM education.
The webinar took place on March 21, and we had over 70 registrations. The webinar was for trainers and administrators in formal and non-formal education. Its main goal was to introduce the participants to UMI technologies and their potential use in STEM education, an area growing big and fast when STEM jobs are expected to grow by 13% in the US between 2017 and 2027 compared to only 9% for other sectors, in the US for example, according with Education Commission of the Unite States.
That's why it is important to talk about UMI for STEM. UMI technologies can definitely be seen as a business opportunity for organizations contributing to formal and non-formal education and training of citizens independent of age. During the webinar, teachers and trainers, managers of training organizations and educational policy makers joined to debate on this important subject and shared their insights.
During the session, the outcomes of H2020 project UMI-Sci-Ed (Exploiting Ubiquitous Computing, Mobile Computing and the Internet of Things to promote Science Education) were presented. UMI-Sci-Ed is a project with the objective of enhancing the attractiveness of science education and careers for young people by putting Ubiquitous and Mobile Computing and the Internet of Things (UMI) into practice towards STEM education.
Iva Walterova, the communications manager of the project, from ALL DIGITAL opened the debate and introduced experts form the Hellenic Open University, who are involved in research on UMI and education. First, Dr. Achilles Kameas introduced the participants to the UMI technologies and presented the project as a whole. After that Mr. Spyros Papadakis, who is a school advisor and counselor at the Greek ministry of education presented how UMI technologies can support STEM education in the school educational practice.
The third presentation on the UMI-Sci-Ed online platform that supports STEM education and communities of practice was presented by Dr. Olga Fragou. Dr. Kostas Delistavrou then presented a selected applied scenario. Fruitful discussion followed.
The video of the webinar is available on I-LINC. After registering on I-LINC and joining the UMI for STEM community, anybody is welcome to watch the webinar and ask the experts questions in the forum.
More updates on UMI as, as always, are available here: http://umi-sci-ed.eu/blogs/