07 Feb

Safer Internet Day in Lithuania

07 Feb, 2013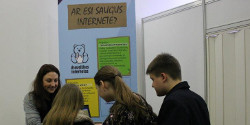 On February 5th and together with 100 countries all over Europe & the world, Lithuania has been commemorating the International Safer Internet Day 2013 (SID 2013). This tenth edition of the initiative was loud, well-seen and very successful countrywide.
Thanks to the collaboration of social partners, lots of events & initiatives were held, mostly located in the biggest cities of Lithuania but broadcasted throughout the rest of the country.
TE's member organization Langas į ateitį organized the online lecture "How to ensure safer online and mobile phones communication of our kids" and invited parents & carers to the local libraries to watch the webinar. More than 6500 adults participated, visiting 500 libraries and their branches all over the country.
During SID 2013, Langas į ateitį also launched the new educational test for youngsters Are you safe on the internet?  Over 1000 young participants tested their knowledge and received valuable advice.