03 Oct

Rural entrepreneurship courses in Romania

03 Oct, 2012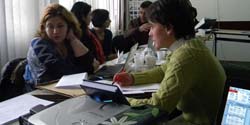 Our member EOS Foundation Romania, in partnership with Civitas Foundation, has implemented the ICT & Rural Entrepreneurship Project to give professional orientation for people at rural areas and in small urban communities.
The project created a training package dedicated to the development of both entrepreneurial and ICT skills, to enable rural people to set up their own business in the communities where they are living. Thanks to this program, 265 people managed to develop and start small businesses in their rural communities. The entire community now benefits from that, as they contribute to the economic development of the region.
» Read the story of one of the beneficiaries 0n our community site